Orwa views Taber as a town with potential
Posted on July 18, 2018 by Taber Times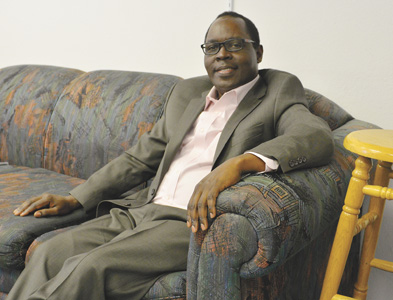 TIMES FILE PHOTO
By Trevor Busch
Taber Times
tbusch@tabertimes.com
With more than a year under the belt as the town's director of finance, John Orwa sees great potential for growth for the community with focus on a few key areas.
"I know the Town of Taber has great potential, and well-laid infrastructure, that if properly exploited should let this town grow quite a bit," said Orwa, who took on the position in May 2017. "Currently what I'm trying to accomplish is probably restructuring the finance department — my department in particular — in such a way that it should be able to accommodate the growth structure that is coming up, and at the same time support effectively all the departments within the town, so that we can meet our long-term objective of making this town one of the best around — or a hub — within the region."
Early in his career as part of a Kenyan diaspora, Orwa left to work in southern Africa before coming to the U.S. to finish his education.
"I was born in Kenya, went to elementary school, and got my first degree there as well. I then moved to the United States, where I got my MBA (Lincoln University, Mo.). Before moving to the United States, I also passed through other countries where I worked, because there were no jobs available for graduates in Kenya. My first stop was in Swaziland, which is actually right in the middle of South Africa. I stayed there for two years, and then after that, I moved into the Republic of South Africa. From there, I went straight to Missouri for my Masters."
Orwa spent many years working in various corporate roles before the siren call of Alberta's oilfields drew him north seeking a more lucrative position.
"After my education in America, I joined corporate America and started working for Enterprise Leasing (Rent-a-Car). We were the first group that were trained in what they call the 'green empire' in St. Louis. So I worked for them and was based as an accounting co-ordinator in Wichita, Kansas. I worked there for about two years, and then from there I moved to Kansas City (Mo.). In Kansas City, I worked for one of the HMOs — Heath Maintenance Organization, one of the biggest controlling so many hospitals — as the senior accountant out there for a while. So I continued working there for quite some time, and then thereafter, it was now time to make a move — chasing oil up north. They said to go up north — all the papers were saying — if you go up north, that's where the money is."
But the oil and gas industry would prove to be an ill-suited fit for Orwa, who would eventually transition his skills into the world of municipal government.
"So I just packed my bags and started looking for a visa to come up to Canada. I was very lucky to get permanent residency when I was still in the United States. So I came to Canada as a permanent resident in June 2007. And then after that, when I landed in Canada, the first place I worked for was an investment company in Calgary. I later joined Shaw Communications, in their business unit with Shaw Business Solutions, dealing with fibre optics and other things involving money. But I was still looking for that oil I came for, and after that I joined oil and gas. But it was very brief because it was not exactly what I was looking for, with long hours and that kind of thing. I then joined the Calgary Zoo as an assistant controller, and then after that I joined the City of Calgary. I was in charge of a small business unit, and transit. I was the director of finance for Calgary Handibus, which is part of Calgary Transit. I was part of the team that transitioned Calgary Handibus into Calgary Transit, which is fully under Transit in Calgary."
Frigid winter temperatures had Orwa longing for southern Alberta's often milder climate, which dovetailed nicely with an open position at the Town of Taber.
"After that, I moved to the County of Vermilion River. That's where I was for almost three years before I joined Taber, as their director of finance, and was based out of Lloydminster. It was very cold. I couldn't survive. So I was looking for warmer places. Then an opportunity came up at the Town of Taber."
Orwa has great confidence in the ability of the town's management team to achieve the kind of growth potential desired by council.
"The Town of Taber has a well established and well accomplished senior management team, that have experience in their own fields, that if properly exploited, should move the town forward. So I'm excited to be part of the growth of the Town of Taber."
Experience with living and settling in the community has given Orwa the perspective that Taber's welcoming atmosphere is an asset.
"I think it's a small town that is very accommodating. It's a welcoming town. I've been here for quite some time, and especially when I was looking for accommodations, I really got a lot of help from the locals. People are very friendly, they show you places, what you need to do. The town is very accommodating to foreigners coming into town, and I think that will really make the town move at a faster speed, because we are really located in a central location, and with highways across. It's not a bad town, we just need to improve a lot of structures so it accommodates a number of things for it to grow more than it is today."
A married father of two, Orwa hopes to continue to foster an ambassadorial ethos in relation to the town's staff as a way to advertise Taber as a location for growth and success.
"One of the strategies that I'm trying to come up with is to ensure that we become very good ambassadors for the town when we go to conferences, workshops or seminars. It gives us an opportunity to let the world out there know about Taber, and I notice that Taber has really gone far more than other municipalities, so what we need to do is just build our image more, and as we do that, it will grow a little faster than it is today. When they're asking us what we're doing and we're telling them, they realize that Taber is far much ahead in terms of so many things — in terms of police, how to handle crime, in terms of land-use bylaws, in terms of financial reporting structures. So we've become good ambassadors."