Cannabis regulations finalized for Community Standards Bylaw
Posted on July 18, 2018 by Taber Times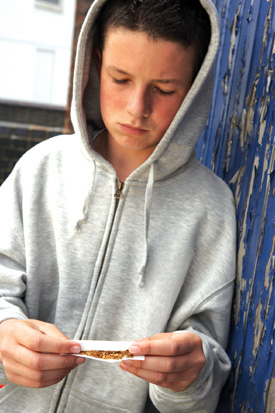 REEFER MADNESS: Canada's cannabis legalization legislation is designed to keep the substance out of the hands of children through regulation. TIMES FILE PHOTO
By Cole Parkinson
Taber Times
cparkinson@tabertimes.com
As the legalization of recreational cannabis is set for this October, the Town of Taber continues to hammer out details in preparation.
With discussions around retail stores and enforcement dominating most talks, council has started shifting some focus to where residents will be able to smoke cannabis.
"This is the third tool we are putting into our tool chest to address the legalization of cannabis and it deals with public consumption of the product and where it would be legal to consume it in the municipality," said CAO Cory Armfelt during town council's regular meeting on June 25.
The ball got rolling when council directed administration and requested the Taber Municipal Police Commission to look into which bylaws would need to be re-worked or if they need completely new bylaws.
The police commission then made amendments revolving around strict controls on public use of cannabis and designated places for cannabis use within the town.
"The police commission deliberated over several meetings to discuss the two items which are amendments to the Community Standards Bylaw. The first is the introduction of a bylaw which would prohibit the public consumption of cannabis within the community of Taber. The second portion of that would also be to allow the council at its sole discretion to be able to designate locations where cannabis could be smoked," said Taber police Chief Graham Abela.
In the set of recommended amendments, the police commission has added two additions in regard to cannabis.
In Part 7, now titled "Cannabis" in the Community Standards Bylaw 15-2018, it states "no person may use, or consume cannabis in a public place, other than a residence, or temporary residence" and "the council may, at its sole discretion, designate specific locations within the town of Taber where cannabis may be consumed."
Coun. Carly Firth questioned Abela about what exactly a temporary premises was.
"A temporary residence would be a place such as a camper or a tent or a place you take up an abode away from your primary residence for the purpose of sleeping," said Abela, and he also said a rented campsite would qualify under a temporary residence, not just a camper or tent.
Abela also stated he understood a residence as the entire property including the house, yard and garage.
While cannabis was a big focus for the changes, e-cigarettes also played a factor.
Minor changes were also made to the bylaw which included some limitations on public use of e-cigarettes and tobacco within the town.
"The second portion of this Community Standards Bylaw has to do with smoking tobacco and e-cigarettes. That portion would prohibit certain uses of e-cigarettes or tobacco within our public premises, not public places, we must differentiate from those things. As well in public vehicles and within places where youth congregate, so places like skate parks, spray parks, et cetera," added Abela.
In Part 6, now titled "Smoking and electronic smoking devices", it states:
a. "No person shall carry or possess a lit cigarette, cigar or pipe, or burn tobacco in any manner or use an electronic smoking device in a public premises, a workplace or a public vehicle"
b. "no person shall carry or possess a lit cigarette, cigar or pipe, or burn tobacco in any manner or use an electronic smoking device in, on or within five meters of a: (i) playground (ii) waterpark or spray park (iii) skatepark: or (iv) sports field to which the public has access as of right or by express or implied invitation"
c. "no person shall carry or possess a lit cigarette, cigar or pipe, or burn tobacco in any manner or use an electronic smoking device within five meters of an entrance or exit to a public premises" and "despite any other provision of this bylaw a person may, inside an enclosed premises where the primary function of the premises is the sale of electronic smoking devices, use an electronic smoking device to sample a product prior to purchase."
"The commission unanimously approved to pass this onto council for recommendation and to review and adopt it if you see fit," said Abela.
A motion to pass first reading of bylaw 15-2018 and was passed unanimously by council.