Police commission discusses upcoming cannabis legalization
Posted on July 12, 2018 by Taber Times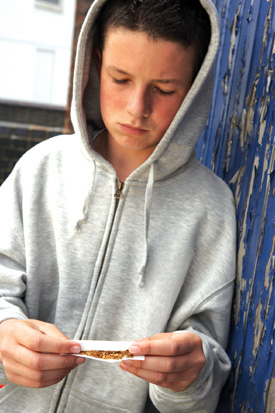 REEFER MADNESS: Canada's cannabis legalization legislation is designed to keep the substance out of the hands of children through regulation. TIMES FILE PHOTO
By Greg Price
Taber Times
gprice@tabertimes.com
With Bill C-45 officially passing the Senate vote by a 52-29 margin, a nearly century-old prohibition of cannabis has been lifted in Canada, as Prime Minister Justin Trudeau has made Oct. 17 the official date Canadians can legally buy and consume cannabis.
The upcoming ramifications were discussed at some length in council chambers at the Taber Municipal Police Commission June meeting.
"With that, there are going to be a lot of changes in the impaired driving legislation. This summer will not be one of rest. It will be a lot of policy updates and training in relationship to the changes that are coming," said Graham Abela, chief of police at the June 20 police commission meeting.
Town councillor and police commission member Joe Strojwas inquired about what kind of funding levels would be coming down to the province to prepare police forces for the upcoming cannabis legalization.
"I asked that question to the director of law enforcement on June 11, and we have been advised that there will be $8 million the federal government is supposed to transfer to the provincial government for purposes of training for police officers in the province of Alberta," said Abela. "We expect that each one of our SFST and DRV training events that will take place will cost $7,000 per member. Our training budget does not have a budget ready for that. So we are hoping some of that money makes it to our municipality. But, that money has not been transferred to the province yet as of June 11."
Abela added they want 33 per cent of the Taber police force trained at the DRV level (drug recognition expert level).
"We want to get to the SFST (Standard Field Sobriety Test Training) training first. There is not even a device present for saliva or other samples for cannabis purposes for two and five nanogram levels (of THC) for investigation purposes," continued Abela.
A delay for the Taber Police Service's cannabis training requirement would be the changes to the impaired driving legislation, which is currently in front of Parliament, according to Abela.
"If and when that happens, when it comes to proclamation, when it gets royal assent, is when we will have to have our training up to date," explained Abela. "The senior prosecutor for impaired driving thinks a January date is when that will happen. When the time comes and we don't have provincial money, or we can't partner or we can't some other way alleviate the cost associated with the training, we may to come back and ask for funding for that."