Garden tour in July
Posted on June 27, 2018 by Taber Times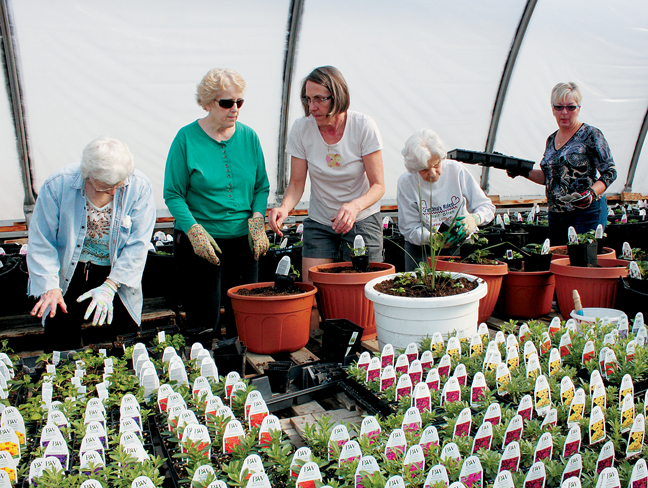 PLANTS: Communities in Bloom in Taber are always encouraging people to be proud of their green thumbs in helping beautify the Taber area. PHOTO SUBMITTED
By Greg Price
Taber Times
gprice@tabertimes.com
Taber Communities in Bloom is encouraging southern Alberta residents to enjoy the summer with a nice, self-guided garden tour.
The Second Annual Communities in Bloom Yard and Garden Tour happens from 11 a.m.-4 p.m. on Saturday, July 7.
"There are seven people who have agreed to host their yards this year. Those addresses are listed when people go to buy a ticket," said Geri Reti, co-organizer of the yard and garden tour.
Tickets are $15 and can be purchased at Luigi's, Pharmasave, Johnson's or Home Hardware. The tickets includes lunch or supper at Luigi's that day with a select menu.
"We choose different yards annually, but they are all exceptional to look at. Each yard has a personal feel to it," said Reti."Their yards go with what Communities in Bloom is trying to do which is to beautify the town."
Organizers of the tour decided to hold it earlier in July this year compared to 2017, along with doing it on a Saturday instead of a Sunday in hopes to increase attendance.
There are approximately 20 members on the local committee who help take care of various green spaces around town like near the Aquafun Centre, the Taber Police Station and Cenotaph, although the committee was quick to point out how much work the town does as well.
"The town itself is doing such a great job. We didn't even need to do a clean up last year. When the Communities in Bloom judges came, they thought we had done a clean up. They were amazed," said Jean Holman, Taber Communities In Bloom member.
Communities in Bloom will continue to work in conjunction with the Taber Times to feature its Pick of the Week in upcoming issues of the Taber Times, highlighting the various good green thumbs out there in the community with their beautiful yards.
"The Taber Times has been a wonderful supporter of Communities," said Holman. "People get excited about the Pick of the Week, knowing they've won a competition and they see their yard in the newspaper. It's something to be proud of."
Along with Reti and Holman, Bettejean Fisher and Linda Oddan are lending their expertise on the committee for the garden tours.
The organization will also be having its annual awards for yards in the Town of Taber and the M.D. of Taber, along with its Christmas lights awards for Taber in November/December.
Nominations for the yard awards can be made by emailing Holman at gjholman2@gmail.com or by calling 403-223-3179.