Seniors Week celebrated
Posted on June 13, 2018 by Taber Times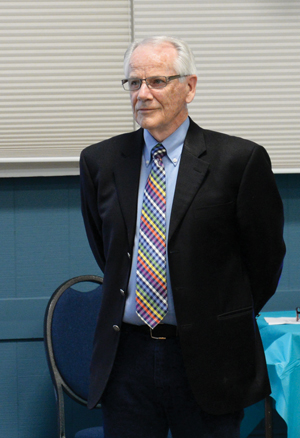 FUNNY MAN: Keynote speaker, Gordon Colledge, garnered laughs throughout his entire speech at the Taber Legion last week which concured with Seniors Week 2018. TIMES PHOTO BY COLE PARKINSON
By Cole Parkinson
Taber Times
cparkinson@tabertimes.com
The beginning of June offered the greater Taber community a chance to celebrate its seniors and all they have contributed throughout their years.
This year's Seniors Week ran from June 4-10 and featured plenty of different events for the local area seniors.
To kick things off, Barons-Eureka-Warner Family and Community Support Services (FCSS) hosted an event with nearly 200 seniors from across the region in attendance to officially begin the celebratory week.
The event featured a keynote speaker, music and introductions and thanks from both the Town of Taber and the M.D. of Taber.
"I want to start with first thanking FCSS and the work they do in the community. It's an amazing organization and what they're able to do, helping the people that they do. Also I want to thank you as seniors, for what you have done for the communities, what you've built for us to carry on with. If it hadn't been for people like you, this town and community wouldn't be what it is today. Thank you for all that you've done and what you continue to do. To be honest, the seniors and volunteers have less time than when they were working," said M.D. Reeve Brian Brewin.
Brewin was also joined by M.D. Deputy Reeve Merrill Harris who serves on the FCSS board.
Harris was thankful for all the contributions towards the community the seniors have provided over the years.
"On behalf of our board (FCSS), I welcome you here. I'm grateful for your contributions and making our communities a great place to grow and live. We know it's because of our seniors that have built our communities. I hope you enjoy and celebrate this year's seniors week," he said.
Town of Taber Mayor Andrew Prokop was on hand to give the town council's thanks as well.
"On behalf of the Town of Taber, I just want to wish everyone a great week and one rule of thumb — have as much fun as possible," said Prokop.
FCSS welcomed Gordon Colledge as their keynote speaker for 2018.
Colledge, was part of the broadcast and technical team that brought CTV to southern Alberta back in 1967 and he had an incredibly successful 30 year career in broadcasting.
Now as an international speaker, Colledge shares many stories from his days in the media as well as life lessons he has picked up along the way.
"What I've figured out for myself is, I am young at heart. It's just the other parts are slightly older. That becomes a really interesting thing because no one has to remind us about being elderly or old. It just doesn't matter and it doesn't count, I give it very little credibility. I may move a little differently, I'm learning how to move, how to get around furniture that has dumb legs on it that stick out, it's just interesting how you learn to go," said Colledge.
While people often use the phrase 'act your age', Colledge says the phrase shouldn't be applied to the older generations.
While they may be older, Colledge believes seniors can still do plenty of things they used to even if it requires them to change their mindsets.
"Live your life and just forgot your age. In fact, sometimes I think we need to stop acting our age. We hold ourselves back from doing things because we think we're too old or we think we can't do it. I'm of the mindset, I'll do them, I may have to do them differently but I am not going to give in," continued Colledge. "Some people say 'I should have started this 20 years ago,' yup, probably should have but you were busy. It's never too late. Even when I went back to university at age 50, that used to be a big deal. Now there's lots of them old folks in there, sharp minds. As we enter into this stage, we have the best brains of our lives."
Piggy backing off the idea of not acting their age. Colledge was also animated in imploring seniors to look inward for youthfulness.
While not everyone feels youthful when they reach certain ages, he believes changes can be made no matter how old you are.
"Inner youth isn't some people have and other people don't because we're all born with it. Some people keep it, others lose it or forget it's there," added Colledge. "Some people say it's too late to change. It's not the roads you've taken in the past or how long you took to travel them that should determine your direction, it's the destination you set today that should determine the next road you take. The quest begins with a single step.The key is having something to look forward to everyday. Many look to the future with apprehension, now I look forward with anticipation."