Liberal leader stresses GSA importance
Posted on June 13, 2018 by Taber Times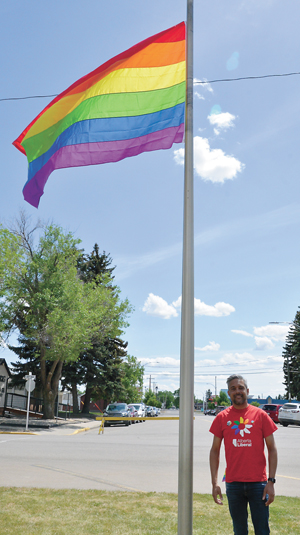 TIMES FILE PHOTO
By Greg Price
Taber Times
gprice@tabertimes.com
A small, but dedicated crowd was at the Taber Equality Alliance's Pride Flag raising to kick off its Pride Fest earlier this month.
Among politicians were town councilor Carly Firth, Minister of Environment and Parks Shannon Phillips, Calgary-Hawkwood MLA Michael Connolly and Alberta Liberal leader David Khan.
A Calgary lawyer who practices indigenous law, Khan's leadership platform has included a basic income pilot project, elimination of the small business tax, proportional representation for the Legislature, more free votes for MLAs, bringing private schools into the public system, and establishing universal pharmacare for those under 24. He is also the first openly gay leader of a major Alberta political party.
"It was incredibly moving, especially Zoe (Nish) who gave that amazing speech of being a leader of a GSA (Gay/Straight Alliance) and it really reminded me of why we have still so much more work to do," said Khan to The Times shortly after the Taber Pride Flag raising ceremony infront of the provincial building. "I grew up in Calgary and it was a lot different back then and it has got so much better now. But, we can get really complacent in the LGBTQ community, especially in urban cities thinking the work is done and everyone is integrated and all rights are protected, but when you come down to places like Taber here, you realize there is still work to do. You realize why you still need Pride parades, we still need them to be political and to pass legislation to protect young people and protect tans people. This was really inspiring."
Taber made provincial and national news last June when the Pride Flag that was flown at Confederation Park was at first stolen and vandalized, and then burned again when a replacement flag was flown. A third flag was flown where people camped over night to ensure the act was not done again. Controversy swirled around the town again when in January, town council rejected the Taber Equality Alliance's request to fly the Pride Flag again this year for Taber Pride, with councilor Carly Firth being the lone vote in favour.
Council also voted unanimously to remove the Confederation Park flagpole's designation as a community flagpole, so that "no requests to fly any other flags will be considered" in the future.
Previously, the community flagpole was made available to special guest flags on a request basis, according to the town's flag protocol.
"Community organizations or groups may request a guest flag be flown on the Community Flagpole in recognition of an event, celebration, or other special occasion," the now defunct policy adopted by a previous council stated.
A primary reason council gave to denying the flag request was safety reasons. "Following the double vandalism of the Pride flag in 2017, considerations as to the safety and security of property and people must be taken into consideration" read advice from administration prior to January's decision. The provincial government stepped in and allowed the Pride Flag to be flown at its building in Taber for June. Already, multiple reports have been confirmed of individuals making boasts in the Taber community of making attempts at either stealing or vandalizing the Pride Flag at the provincial building, although security has been issued for the flag by the provincial government.
It is actions like burning of flags and overblown concerns for GSAs in the province that Khan notes why events like Taber Pride are so important.
"There is a lot of misinformation out there and push back from conservative sources. For example, that GSA laws gag students from talking to their parents or teachers. It is meant to create a safe space for students so that they can feel comfortable being as out as they want to be," said Khan. "They are welcome to talk to their teachers. In many cases, talking to their teachers and having their teachers help them talk to their parents can be very beneficial. The law doesn't disallow that, it just disallows teachers or school officials from unilaterally telling parents without a student's permission."
As a gay man, and the first openly gay leader of a major political party, Khan added he would have loved to have had a GSA available to him when he was growing up in the late 1980s and early 1990s.
"It is a wonderfully important thing that we in the LGBTQ community have a safe place with youth that they can spend their time with all the challenges they have growing up," said Khan, adding there is plenty of unfounded hysteria when it comes to the intent of GSAs. "There's misinformation that somehow it's promoting a sexual quote unquote lifestyle. Or they are going to be teaching sex ed in an underhanded or below the radar manner. These are all talking points and misinformation that are pushed by people that don't care about protecting our youth and are frankly rooted in the past. I'm quite surprised to see that right across the street near the Town of Taber building, they wouldn't even allow a flag pole to be used. I'm really happy to see the provincial government has provided this pole."