MP Shields balks at pipeline purchase
Posted on June 6, 2018 by Taber Times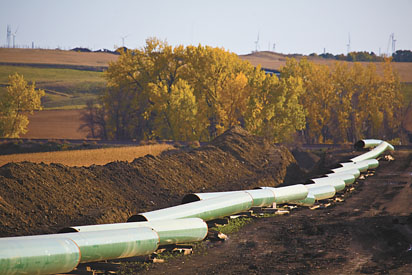 SQUEEKY WHEEL: Projects like the Keystone XL Pipeline are poised to resume barring any further regulatory hurdles. TIMES FILE PHOTO
By Trevor Busch
Taber Times
tbusch@tabertimes.com
Pierre Elliot Trudeau once said there's no place for the state in the bedrooms of the nation. Now son and Prime Minister Justin Trudeau has his work cut out for him in convincing Canadians there's room for the state in the pipelines of the nation.
Last week, in an effort to circulate some air conditioning to cut through the hot air of rhetoric billowing from opposing sides of the Trans Mountain Pipeline project, the federal government announced it would be purchasing the contentious political football from Kinder Morgan for $4.5 billion, and could be spending billions more to ensure its completion.
Bow River MP Martin Shields decried the cost of the purchase for taxpayers, while suggesting nominally-defunct pipeline projects like Energy East should now be back on the table.
"With the other two pipelines that could have been built — Northern Gateway, which had been approved we could have that one to the coast, and Energy East we could have been self-sufficient if new regulatory processes hadn't been put in place — instead we're giving four and half billion dollars to some people in Texas to build pipelines somewhere else in the world. That's a challenge. So we end up with a 60 year old pipeline, and that's all we've got for $4.5 billion."
The twinning of the 1,150 kilometre pipeline is expected to triple its capacity to an estimated 890,000 barrels a day, while increasing tanker traffic on the B.C. coast from five to 34 tankers per month. The original Trans Mountain Pipeline was constructed in 1953, and currently ships roughly 300,000 barrels per day.
Finance Minister Bill Morneau and Natural Resources Minister Jim Carr have extolled the virtues of the purchase, suggesting it was a financially sound decision and entirely necessary to the nation's interests.
Shields isn't nearly as convinced as his government colleagues.
"That's tough. That's taxpayers, when we had companies willing to build these on their own, and they didn't ask for money. I'm not sure how they're going to build this pipeline. Although they're spending $4.5 billion it doesn't give them the right to build it other than what they were dealing with before. Two years ago, if they'd have gone ahead and said this thing under federal legislation should be built, we wouldn't be dealing with sending $4.5 billion to the U.S. to buy that line. So that's a tough piece. Do we want people at work? Absolutely. Do we want pipelines to be built? Absolutely. So I think a couple of years ago the opportunity to get that one to happen, and all Kinder Morgan was looking for was if we're going to spend the billions to do this, we just need a clear path to get it done. That didn't happen."
Shields argues that Energy East, Trans Canada's now-sidelined pipeline project to ship bitumen to New Brunswick for refinement, would have been the more logical choice for full on federal support rather than Kinder Morgan's Trans Mountain expansion.
"If we'd had the one built to the east — they changed the rules and regulations at the end there, so it made it very difficult to build. We could have been self-sufficient in oil instead of importing oil from wherever. The Maritimes very much would have appreciated those jobs at that end of the country with that pipeline being built, and the refining process there. Instead, we put in regulations that won't allow that one to happen. Northern Gateway was cancelled, and it would have been half way built by now. Instead, we buy a pipeline that still seems to have a lot of complications in the way of it moving ahead. Are we going to get a pipeline built or not? I'm still not sure, but $4.5 billion has already been paid and has left the country."
As for suggestions from analysts the federal government could have achieved a better purchase price for the pipeline, Shields offered a wry response.
"Yes — they didn't have to pay it at all. They could have said let's get this thing built and we'll make it happen, and here's the pathway — and they wouldn't have had to pay anything. I guess that's the better deal, right? And they said there's no other companies that are willing to take the risk. So why are we as taxpayers taking the risk?"
While there is obviously demand for the pipeline expansion once built, Shields still advocated for a renewed analysis of the feasibility of the cancelled Energy East project.
"When the railways are being jammed up with oil tankers — and you've seen them running through your community — versus the safety of a pipeline, and then we're jammed up and can't move grain out because all those rail cars with oil on the line instead? The demand is there to fill them up, it really is. The U.S. is a choke point with pipelines to the States, and that's part of what they can do to discount ours. We need to get ours in those lines already. We continue to support pipelines, because that's getting the oil to market. We believe they should re-look at Energy East, and take a look at getting that built. That's self-sufficiency for oil."
Kinder Morgan had estimated the cost of building the expansion could top $7.4 billion, but Shields took a dim view of the potential financial implications when governments intervene in projects to ensure their completion, suggesting the project cost to taxpayers could easily double.
"When the government builds things, they end up twice or three times the cost they were budgeted. So we've got a government project that the government say has to be built as a pipeline, net costs are going to double if not triple. If Kinder Morgan was saying $7 billion to build it, if the government is going to build it, you know that's going to be $14 billion. People say the government is going to do this, it doesn't matter what costs are."
What Canadians needed from the federal government in this context was political action, not a plunge into the deep end of the fiscal pool.
"The government had the appropriate powers to make that thing get built and clear the way for Kinder Morgan," said Shields. "They just needed a path — that's all they asked for, we need a deadline, their shareholders are a private company, we're willing to invest $7 billion to get it built, give us a clear path to get it done and we'll spend the money to do it. That should have been what happened."