Second annual Taber Pride Fest kicks off June
Posted on May 23, 2018 by Taber Times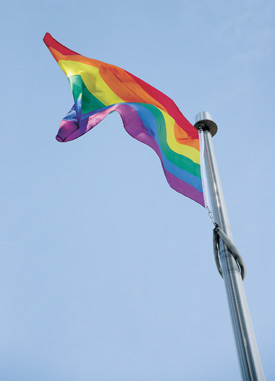 TIMES FILE PHOTO
By Cole Parkinson
Taber Times
cparkinson@tabertimes.com
With June right around the corner, that means 2018's Pride Fest is coming up.
Taber's 2018 Pride Fest will be held on June 2nd and it is sure to feature plenty of entertainment for all those who come to town for the event.
One of the promised special celebrations has already been confirmed for the June event.
Upon the Town of Taber council's decision to not allow the Taber Equality Alliance to fly the Pride flag during the celebration, Minister of Infrastructure and Calgary-Northwest Sandra Jansen tweeted out "Dear Taber, Your 1st flag was stolen, 2nd burned. It would be an honour to fly your next Pride flag from the Taber prov building #ableg" which will indeed happen.
"We are doing it in front of the provincial building and I do believe that Sandra Jansen, who okayed this, is coming to speak at it as well," said Jayce Wilson, TEA secretary and chair for the Taber Pride planning committee.
On top of the new flag placement, there will be several activities for everyone to check out.
With most of the fun happening at Confederation Park, the group is making sure to use the location to the best of their abilities.
"We're going to have more live entertainment, there will be a beer gardens so that is definitely new for this year. We're hoping to hire a DJ as well to help roll the show along. We have a group from Calgary called the Raging Grannies, they are coming down and they're an activist group. They do stage performances and singing so they'll be down performing for us," continued Wilson, who also highlighted several other performers that attendees will certainly want to check out.
While last year's event was well attended by locals and the LGBTQ+ community, there may be a rise in attendance for the 2018 edition.
Council's decision to not fly the flag on the community flag pole was a well-publicized decision that made its way around Alberta.
With that in mind, Wilson is fully aware it may encourage more people to come to the region to celebrate Pride Fest.
"I would imagine we're going to have more, how much more? It's hard to say. Last year we had about 300 people show up so if we double that number I'll be stoked. We'll see what happens," she said. "I've seen a lot of comments from people from those bigger centres (Calgary and Edmonton, among others) saying 'we're coming down to Taber' so I don't know how many to expect."
Even though their flag request was denied, TEA continued to work towards their second Pride Fest. In the long run that denial may work in favour for the organization as it gives them a platform to show why Pride Fest is so important.
"Everything that happened last year and even with the town council, that is prime example of why this is important. Another reason is, personally, I feel quite a few of the queer or LGBTQ+ people that live here in Taber are still very much in the closet and don't feel safe being out in public. I think a lot of them it is very much a safety issue, that's probably why we don't have as many people out planning as I would love to have. As time goes on and there is more recognition and awareness, Taber is going to become safer and more more people will start coming out," said Wilson.
With around 10 people behind the scenes planning the fest, time is starting to run out before the celebration begins and the organizers are starting to put the finishing touches on planning.
"I still wish we had another two weeks, it will be ready regardless with if we're ready or not. We're still looking for more last minute entertainment and volunteers," added Jayce.
In regard to volunteers, she says they are still looking for people to contribute to the decorating and cleanup committees as well as anyone willing to just generally help out with running the event.
Pride Fest will get going on June 2 at 1 p.m. with the flag raising ceremony at the provincial building. Guest speakers at this portion of the event include Sandra Jansen and Michael Connolly.
The celebration will then shift to Confederation Park for the beer gardens, face painting, bouncy castle and live entertainment before the final move to Tank 77 for the after party.
If you are interested in volunteering or want more information on the Taber Pride Fest, you can visit the TEA Facebook page at http://www.facebook.com/tabereapage or the Pride Fest page at http://www.facebook.com/events/509784592752458/?active_tab=about.