M.D. of Taber council looks at extent of flood damage
Posted on May 16, 2018 by Taber Times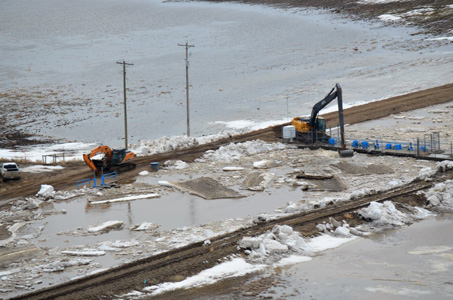 TIMES FILE PHOTO
By Cole Parkinson
Taber Times
cparkinson@tabertimes.com
As the Municipal District of Taber ramps up work on repairs to their infrastructure after this year's overland flooding, council was presented with some of the numbers that have been rolling in.
Since declaring a state of local emergency in March, the M.D. council and staff have been working tirelessly to mitigate water from across the region.
Now their focus has been shifted to repairs of M.D. infrastructure.
"An evaluation of damages has been conducted and this information was all presented at the recent public works meeting. Extent of flood damage, 831 sites were logged, 465 sites had recorded damage, some sites had both culvert and road damage, 78 new culvert installs are required, 58 damaged culverts will require replacement, 424 roads damaged and approximately 155 sites have been repaired — this was from the morning of the public works meeting and that number has increased quite a bit," said Derrick Krizsan, CAO for the M.D.
Road repairs need an estimated 25,000 metric tonne of aggregate gravel which will cost around the $250,000 mark. Erosion fills, cleaning of ditches and culverts is also estimated to cost around $250,000.
For this spring, the M.D. is focusing on repairs to Range Road 16-3 (erosion damage), Township Road 14-2, 16-0 (culvert replacement on paved road), Township Road 14-2, Range Road 15-5 (culvert replacement on paved road), Township Road 10-2 (gravel road washout), Range Road 19-0 (gravel road with eroded shoulder and road damage), Township Road 15-0 (culvert replacement on gravel road) and Township 11-0 (culvert replacement on paved road).
Culverts also saw extensive damage throughout the flooding. On top of the damage that was seen by the overabundance of water, the M.D. also has to add some extra culverts around the area.
"Culvert damage, our cost there, between damage by flood and addition is about $109,000," added Krizsan.
An engineering study of potential areas targeted for local improvement is also estimated at $100,000.
"Our total estimated costs for flood repairs is about $1.26 million. Flood mitigation cost to date absorbed between March and May 1 is about $450,000 with $300,000 of that for contractors and $150,000 for staff overtime costs," said Krizsan.
With this flood being an extraordinary event that the M.D. couldn't really have planned for, council had questions about being prepared for floods in the future. Past events such as the flood in 2011 gave the M.D. a base for how to deal with these events but 2018's was much bigger than they could have prepared for.
"This is going to happen again, it isn't if, it's when. And when this happens again what do we do to be a little more prepared," said Reeve Brian Brewin. "I know this can't happen overnight but some of the steps we can take could definitely help out in this event."
The flooding in 2018 has been described as a one in 100 year event whereas the M.D. infrastructure isn't built for that kind of event.
"Most of our infrastructure is designed for a one in 25 year," added Krizsan.
In regard to preparing for the next flood event that will come, Brewin asked about the possibility of creating a drainage plan to better their preparedness.
"We could potentially make an application under community resiliency to undertake some of these projects but we would have to do the engineering first," said Krizsan.
With repairs at the forefront of M.D. focus, some of their on-going projects have been delayed until next year.
Both of the paving of main streets in Grassy Lake and Hays and the Vauxhall industrial lots have been pushed to 2019 in order for the M.D. to provide funds for flood repairs.
Projects that are still going to be undertaken sometime in 2018 include the West Township 8 range 16 storm water project, the walking trail, bridge file 80155, Enchant industrial lots, water plant generators, administration building generator, calcium projects on main streets in Grassy Lake and Hays and the Vauxhall regional fire station generator project.
Meanwhile, the local state of emergency for the M.D. was officially lifted last week on May 11. Even with the state of emergency lifted, 50 miles of road in the M.D. remains closed due to damages from flooding.