Weisbrod brings decade of experience to detachment
Posted on May 10, 2018 by Taber Times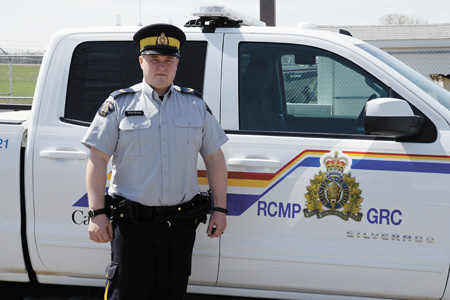 SERVING THE COMMUNITY: The year 2018 has seen Cpl. Brian Weisbrod return to rural policing with the Taber/Vauxhall RCMP detachment after his last post in Lloydminster. TIMES PHOTO BY GREG PRICE
By Greg Price
Taber Times
gprice@tabertimes.com
Cpl. Brian Weisbrod has been enjoying his transition to rural policing in his new post at the Taber/Vauxhall RCMP detachment.
An 11-year veteran on the force, Weisbrod has been at the local detachment since the end of January.
"It is something I've always wanted to do since I was a little kid. I've always liked the options. You can go all over the place, there are different fields you can get into and you are not always working inside and you're not always working outside," said Weisbrod of his love of law enforcement.
Having to brave one of the harshest southern Alberta winters in recent memory, Weisbrod has been settling into the community nicely with his wife Tiffany.
"The adjustment has been good. The community is super nice and the people I have talked to and dealt with, they are all very friendly. It has that small-town feel which I like," said Weisbrod.
Camping and fishing are two big things Brian and his wife Tiffany like to do in their spare time and the southern Alberta region certainly fits that bill with all the areas that are nearby.
"Being closer to the mountains and being closer to the border is nice," said Weisbrod.
Weisbrod has already served on a wide range of detachments, coming from Lloydminster and a small three-man detachment from Manitoba prior to that.
"Going from city policing back to rural policing, I have to learn a whole bunch of new things again. Things I took for granted in the city. The public servants would do some of the administrative stuff for us, so I'm re-learning that," said Weisbrod.
"I really liked the rural policing and I wanted to come back to that for a while. You get more of a community feel in a small town than you do in a big city where you are going from call to call to call."
To be an effective officer, Weisbrod noted for him he walks that fine line between enforcement and education.
"We have to enforce the law, but we also all have to live in the same community when you look at the scale of things. We are not here to ruin people's lives," said Weisbrod on judging to when let people off with a warning. "Everyone has their different demeanors and it works for some people with different things. Not every police officer is the same and each brings their own strengths to a detachment."
Weisbrod was a watch commander in his last detachment and was in charge of six members, plus a plain-clothes member. In Taber/Vauxhall RCMP, he is in charge of four members.
"I'm more involved here where I'm not just sitting behind a computer reading the whole time," said Weisbrod. "I have more diversity and more opportunities down here. I am the guy below the detachment commander."
In his over-a-decade of policing experience, Cpl. Weisbrod has already seen a break-neck speed of innovation and evolution to the job.
"The biggest changes have been technology. When I first started out, there were no computers in cars, our recorders had the little tapes. That was not even that long ago," said Weisbrod. "The GPS I didn't have until after I was an officer."
As he continues to serve the community, Cpl. Weisbrod stresses the Taber/Vauxhall RCMP detachment is trying to be as proactive as possible in he area and as approachable as possible.
"We are friendly. We are not the bad guys, we want people to come to us with their concerns," said Weisbrod. "I hope people don't just see the uniform."