Cirque du Soleil showcasing artistry on ice in unique show
Posted on May 10, 2018 by Taber Times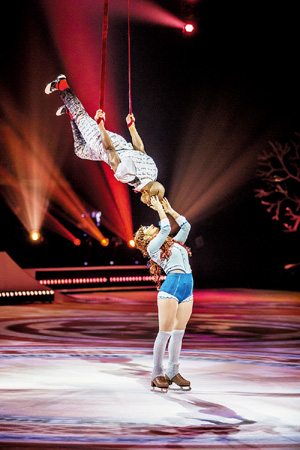 MAJESTIC MOMENT: In its current run of its production of Crystal, Cirque du Soleil is merging its artistry with an ice setting for the first time, with showings in Medicine Hat in late May. TIMES PHOTO SUBMITTED BY CIRQUE DU SOLEIL
By Greg Price
Taber Times
gprice@tabertimes.com
For fans of Cirque du Soleil and its art form that is always pushing the envelope, it is once again advancing the boundaries with its show run, May 23-27 in Medicine Hat.
Cirque du Soleil's Crystal explores the artistic limits of ice for the first time in their history. The unique production pushes boundaries of performance by combining skating and acrobatic feats that defy the imagination.
World-class ice skaters and acrobats take their new frozen playground by storm with speed and fluidity as they challenge the laws of gravity with daring acrobatics.
"We have been doing this creation since June of last year and started doing the shows in September," said Nobahar Dadui, who plays Crystal in the Cirque offering that has 89 performers/technicians in the performance involved.
Crystal is a misfit with her head in the clouds, a dreamer looking for something more in her life. One day, feeling misunderstood and out of sync with the world, she ventures out on a frozen pond and falls through the ice. In the underwater world of her own imagination, she has a vision: she sees a reflection of herself – her alter ego – that guides her, showing her a distorted version of her life. Her reflection tries to wake her up to her own genius and creativity.
Dadui has skated since she was three years old, on roller skates in her native Iran, later taking up ice skating when her family immigrated to Canada. With over a decade of experience doing dance/figure skating shows, having also been a competitive gymnast, Dadui got a call from Cirque from a choreographer she had worked with years ago, and as they say, the rest is history as Dadui helps headline the production of Crystal.
"I really enjoyed this creative process because really, your body, mind and soul is into it. We were able to create the characters around who we are and we spend so much time together as a team," said Dadui. "The story hits really close to home for a lot of us. Being part of such a huge production, it was already something so different."
Exploring new ground with Crystal, gymnasts and skaters perform acrobatics on the ice and in the air, melding both worlds together. Disciplines such as swinging trapeze, aerial straps, and hand-to-hand are fused together with disciplines such as synchro, freestyle, figure, and extreme skating on ramps, with a dash of all-out speed skating. Figure skaters learn to be pushers on Chinese poles, while circus artists learn to skate, and extreme skaters learn figure skating moves.
"Normally our (training) days start at 10:30 in the morning and we go all the way to 10 o'clock at night. Sometimes we have rehearsals and sometimes people are training. It's finding a way for the acrobatics and ice show to work together. This isn't just a figure-skating show. It's an ice show with skaters as well as acrobats and other disciplines. It's amazing what Cirque is doing in an ice environment," said Dadui of how seriously performers take their craft. "It's not just training. You have this new environment which is ice that can take a toll on your body."
"You can ask the artists, it's not technically the hardest show. But, it's so mentally and emotionally engaging, that everybody has to be very aware and conscious of what's going on at all times. There is so many different things happening at once."
At the beginning of the show, Dadui runs out and looks out to the audience. It is that brief moment of seconds she hopes to draw people into the production in setting the tone of engagement.
"I want them to follow Crystal's journey. It is a very simple story and I hope every single person in the audience can take whatever they want from it," said Dadui. "It's amazing with how simple the story is, how helpful it can be and it takes people away from the troubles of their lives for two hours."
Cirque du Soleil's Crystal is touring all across North America. Performances at the Canalta Centre in Medicine Hat have 7:30 p.m. performances from May 23-26. Saturday, May 26 performances also have shows at 12:30 and 4 p.m. Sunday, May 27 performances are at 1:30 p.m. and 5 p.m.
Tickets can be purchased by logging onto http://www.cirquedusoleil.com. Base tickets prices range between $38 to $149 depending on day, time and seating selection.
"Come see something that has really never been done before. Come and follow a story you can relate to. It's good to have older and younger generations go back to their inner child," said Dadui. "People will be on the edge of their seats with a lot of gasps. That's the energy we feed off of."