Town looking to partner with Kenya on water initiatives
Posted on May 2, 2018 by Taber Times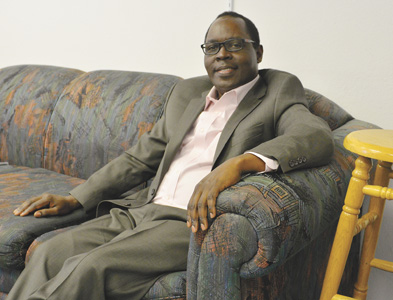 TIMES FILE PHOTO
By Trevor Busch
Taber Times
tbusch@tabertimes.com
The Town of Taber has endorsed a collaborative relationship with a county in western Kenya to provide advice and support for development of water and wastewater treatment solutions in the African nation.
The County Government of Siaya is keen on collaborating with Town of Taber administration in order to benefit from the practices developed within the town and foster long-term relations between the two administrations, including potential financial and technical assistance in agreed areas of operations.
Siaya County envisages a scenario where Town of Taber administration assists with building the capacities of the county in terms of various activities including workshops, training sessions, expert missions, study visits, internships and potentially providing financial and technical assistance for jointly-agreed projects.
"When the British left and Kenya became a republic in 1964, the British left structures, and most of them are in the urban areas and not in the rural areas," said finance director John Orwa at town council's April 9 regular meeting. "The population has been growing at a geometric rate that cannot catch up with the structures that are left in certain areas."
Orwa, who originally immigrated from the Siaya County area many years before settling in Canada, is spearheading the collaboration effort between the two municipalities.
"The government has been reaching out to the Kenyan diaspora, particularly Kenyans that are working in government. So my name came up, and they reached out to me. The challenge was how can you help us out here?"
Siaya County is one of 47 counties in Kenya with a population of approximately one million, and is located on the shores of Lake Victoria, one of the largest freshwater lakes in the world. The majority of the county's residents are involved in fishing and agricultural activities.
Two project areas where Canadian authorities could extend assistance — development of water and wastewater systems — were identified. The County Government of Siaya is confronted with huge challenges in these areas, which has prompted high levels of diseases — like malaria and acute respiratory infections — associated with improper disposal of solid and liquid waste, and lack of access to clean water. Routine data collected at health facilities in the county indicate that the prevalence of malaria is at 54 per cent.
Through an analysis of potential collaboration opportunities between the town and county, Siaya targeted water and wastewater operations.
"At the end of the day, they zeroed in on water and wastewater, which they thought is probably one of the worst areas that needed to be worked on, based on the diseases that are out there, and trying to improve quality of care in some of those areas," said Orwa.
In Siaya's proposal to Taber, it was noted the areas of water and waste disposal have been a huge issue for the county, with solid waste piles amounting to hundreds of tonnes dotting all major towns and villages with no proper and efficient waste management strategy in place to resolve the problem. Disposal of liquid waste, "through acceptable levels of hygiene is largely lacking."
Other developmental problems in the county include poor infrastructure, erratic power supply, and high unemployment, with 40 per cent of the population considered to be living below the poverty line.
"One of the things that I see happening out there is that most of the counties get support from the western world, but there is no follow through," said Orwa. "So in other words, go in there and build a water plant which works for a month or two, and that's the end of it when they pull out. The reason being is there's no follow through, there's no training, there's nothing like that."
To get the collaborative ball rolling, Orwa is hoping to see a fact-finding delegation from Siaya visit the town to investigate its facilities prior to budget season in Kenya.
"From the Town of Taber standpoint, at this point there's no cost. What that means is that if the council accepts this, it gives us room to start looking at possible federal grants out there that can assist the Town of Taber to collaborate with this county. Then it starts from there," said Orwa, who went on to illustrate an example of the problems in Siaya County. "Kenya has the world's third largest freshwater lake, but the taps are dry in this town — 100 metres away there's a freshwater lake. So this is where the collaboration comes in, I want them to come and see what happens here."
Coun. Jack Brewin was enthusiastic about the potential involved in the collaboration.
"It's quite an exciting venture, I think. It's almost more of a mentorship instead of a collaboration. They'll see how we do it, and if they can somehow get that technology to work over there. I think it's quite exciting, and something Taber should really look at being involved with."
Coun. Joe Strojwas inquired if the town's public works department was prepared to assist in providing the information that might be required.
"We've been collaborating with Mr. Orwa since he first brought this forward, and I think it's a very interesting proposition, and we're actually looking forward to it," said public works director Gary Scherer. "I think we could both benefit from the collaboration."
Following discussion, council voted unanimously to accept as information the collaboration proposal between Siaya County, Kenya and the Town of Taber, and gave administration authority to provide feedback to the Siaya County authorities.