Flood bill tabbed at $150,000
Posted on May 2, 2018 by Taber Times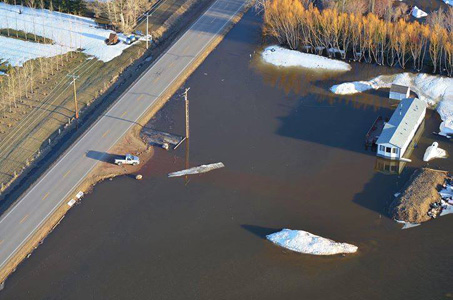 TIMES FILE PHOTO
By Trevor Busch
Taber Times
tbusch@tabertimes.com
Factoring in labour and equipment, recent emergency flood mitigation efforts for the Town of Taber are expected to top $150,000 once final costs are tallied.
Overland flooding in the community was located in the south, in close proximity to the water treatment plant, the Wal-Mart commercial area, and various south-side residences.
A combination of ice-blocked culverts and ditches, large accumulations of snow on adjacent fields and significantly warmer temperatures raised the level of concern "dramatically," leading to the town declaring a local state of emergency on March 29.
The local state of emergency lasted approximately three weeks and was rescinded on April 16.
"The Town of Taber remains on alert and is continually monitoring the situation," reads a statement in administration's background at council's April 23 regular meeting. "However, at this time, it is believed to be wise to be shifting from emergency response to disaster recovery. The first step in this shift is for administration to complete the disaster-recovery application."
According to administration, preventative measures taken by the town in initiating its Emergency Operations Centre (EOC) mitigated any major impacts the town may have faced from overland flooding, but significant time and resources were allocated toward these preventive measures, and damages to land and property were sustained.
Through his calculations, finance director John Orwa estimates the final bill for the emergency for labour, equipment and contracting will ring in at around $150,000.
The application is to request funding from Alberta Emergency Management to cover costs related to overland flooding in 2018. Submitting the application is the first step in potentially receiving funding from the province to cover costs of the flooding incident.
"I do not know how much we might be able to recoup," said CAO Cory Armfelt. "In the meeting with the M.D., it was very clear that they are a funder of last resort, and one of the things they look at is the municipality's ability to cover the expense themselves, and the amount of losses that were sustained. So we'll have to put the application in, and see how we work out in the wash with regard to how much support they may give us."
A delegation from the provincial government's Alberta Recovery Branch made a presentation in M.D. of Taber council chambers during their regular meeting on April 11 to touch base on local procedures when these types of events happen.
Their plan focuses on four major facets which helps them organize and differentiate when dealing with major events. The first step in the procedure is ascertaining the people with their objective being to ensure the right resources are available to support the physical and mental well-being of all involved.
The second revolves around economy with objectives of job creation and economic diversification.
The third element comes in the form of re-construction after the disaster. With this part of the plan, they focus on solutions and responsible development, as well as ensuring infrastructure is operational and safe.
The final pillar of the recovery branch plan is related to environment and it works around protecting and re-establishing a healthy state, as well as mitigating long-term environmental impacts.
Applying for grants for these types of events has to be done within 90 days and can take a few months to be reimbursed.
Following discussion, council voted unanimously to direct administration to complete a Disaster Recovery Application for the 2018 overland flooding incident. Mayor Andrew Prokop was absent from the meeting.