Stakeholders pleased with resource officer program through Taber Police Service
Posted on April 11, 2018 by Taber Times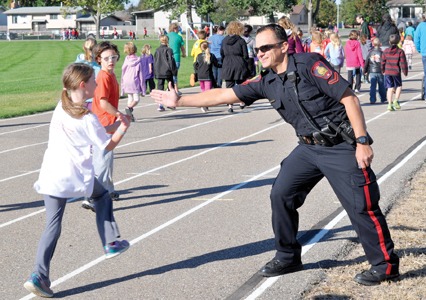 TIMES FILE PHOTO
By Trevor Busch
Taber Times
tbusch@tabertimes.com
The School Resource Officer (SRO) program through the Taber Police Service received a glowing review in a recent annual survey of stakeholders.
The 2017 School Resource Officer Partners Survey was conducted in an e-survey format from Dec. 15, 2017 to Jan. 31, 2018, and received 41 responses from administrators and teaching staff of various local schools. The report was compiled by Cst. Andrew Evanson.
A web link was shared with Taber school administrators through email with instructions to have them and their teaching staff complete the survey. The current SRO is Cst. Dave Gyepesi.
Seventy-five per cent of respondents reported they are very satisfied with the programming used by police in their presentations to students, with 82.5 per cent reporting the same with the intervention of the SRO in threat assessments. This percentage dropped to 74 per cent when assessing the enforcement activities of the SRO program including traffic, smoking, trespassing, fighting or drugs.
"As a school resource officer, I know from the past I get asked to do presentations all the time," said Evanson during the March 21 regular meeting of the Taber Municipal Police Commission. "I got repeat requests every year, so I felt like maybe I was doing a pretty good job, because they asked me to come back to give a similar — if not the same presentation — to the new year of students."
Almost 80 per cent were happy with the participation of the SRO in assemblies, functions and administrative meetings, and were identical in their support for the communications efforts of the position through emails, phone, frequency, clarity, and timely response. Less satisfaction was expressed (71.79 per cent) with the impromptu attendance of the SRO, including their frequency and visibility, however this would increase to almost 85 per cent when assessing the position's availability through short-notice or scheduled requests or answering phone calls and texts.
"A lot of people may or may not perceive the tobacco issue when they're legally smoking in front of the school and they're over 18," said Evanson. "I see it a lot, even out of the school resource officer program, because what I would do is I would walk over there, chat them up, find out that they're all over 18. What else am I supposed to do at that point? They're on a public sidewalk away from any public area. It's just how it is. But someone else might perceive it as being an issue."
Professionalism in dealing with staff and students took home high marks (89.74 per cent). Overall, satisfaction ratings for the SRO position exceeded 93 per cent.
On a less positive front, the survey indicated that 2.5 per cent were very dissatisfied with SRO enforcement, as well as programming and presentations provided by the SRO. These numbers were the only negative responses provided and were very low in comparison to the overall satisfaction rating.
"It's surprising that there's even one, because recently I've had discussions with teachers and principals, and parents, and everyone is overwhelmingly in love with the job that he's (Gyepesi) doing, or has done over the last two years," said commission chair Ken Holst.
Of the responses received, D.A. Ferguson Middle School submitted the majority (31.71 per cent) followed by St. Mary's School (26.83 per cent), ACE Place Learning Centre (17.07 per cent), W.R. Myers High School (7.32 per cent) and L.T. Westlake Fine Arts Elementary School and Taber Christian Alternative School each with 4.88 per cent. Less statistically significant responses were also received from Central Elementary School, St. Patrick's Elementary School, and Taber Mennonite School.
"Our current SRO, Senior Constable Gyepesi, will be taking on a position within the police service as my executive officer in July, and Constable Chris Nguyen will be taking over the SRO position in September 2018," said TPS Chief Graham Abela.