Communications centre is front and centre
Posted on April 11, 2018 by Taber Times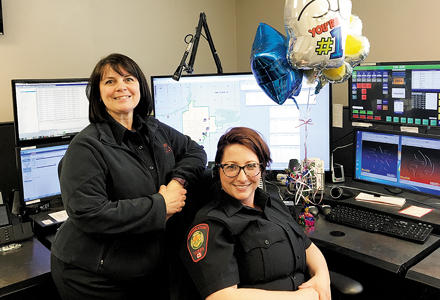 CALL CORNER: Dana Bell and Audrina Steciw are two of eight staff, depending on the casual pool, that operate the communications centre at the Taber Police Service. TIMES PHOTO SUBMITTED BY GRAHAM ABELA
By Greg Price
Taber Times
gprice@tabertimes.com
National Public Safety Communications Week runs April 14, highlighting the critical work hardworking dispatchers and public safety telecommunicators do as a vital link between the community and fire, medical and law enforcement agencies.
"The Taber Police Service houses the communications centre that is responsible for 9-1-1 regionally for the Municipal District of Taber and the Town of Taber. We are the first line of communication with regards to the public/clients and the chain of survival in relation to fire and ambulance response, as well as calls for services involving two police agencies in the RCMP and the Taber Police Service," said Graham Abela, chief for the Taber Police Service.
The 9-1-1 standards in the province require a certain threshold for a chute time. Abela is happy to report the call centre out of the Taber Police Service meets those requirements and more.
"We here at the police service meet and exceed 9-1-1 standards and we work diligently to meet the NFPA chute times for fire in the province. Police don't really have chute times, the calls are contextually different than fire calls," said Abela. "But the dispatcher takes important information from the public so that we get the right people with the right resources to the right place in the quickest amount of time possible. We use the National Academy of Emergency Dispatch System pathway for police and fire form our service."
Dana Bell, public safety communications manager for the Taber Police Service, has recently completed her certificate in public safety communications management, and will be graduating in Las Vegas at the end of April at a national conference.
With National Public Safety Communications Week, the Taber Police Service would like to raise awareness in its protocol as calls come into the critical link that is the dispatchers.
"What we find is sometimes the public doesn't understand why we ask the questions that we are asking. Sometimes the public can get frustrated which is normal for us. But the questions are asked the same way each time so that the people that we are dispatching are given the proper information that they need to do their jobs," said Abela. "A lot of the time when we are asking questions, it is to get specific resources to a specific place and not wasting precious resources by sending too much of a response sometimes to a certain location or inversely, an improper response. There is a lot of technology involved now in our dispatch including our computer-automated dispatch system called iNet. Our dispatchers do a wonderful job. From my perspective, there's nothing better as a police chief, than to walk into our communication centre and see our dispatchers. They are multi-tasking like you wouldn't believe and answering multiple 9-1-1 calls with a flurry of activity in high-stress situations. It is just amazing to watch how they handle that and get people to where they need to go."