Plenty of feedback from fire hall petition
Posted on April 4, 2018 by Taber Times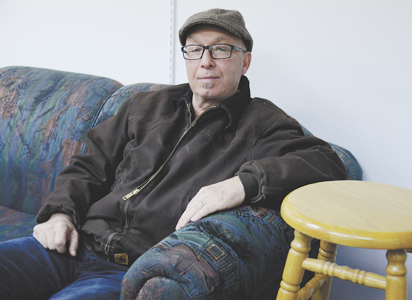 FIRE SALE: Resident Forrest Lester is presenting his petition to town council this month. TIMES PHOTO BY TREVOR BUSCH
By Trevor Busch
Taber Times
tbusch@tabertimes.com
As door knocking efforts continue, organizers report only a handful of citizens contacted have declined to sign a petition against the potential relocation of the town's fire hall.
"The response to the petition has been unreal," said co-organizer Forrest Lester. "With only four of us going door to door, we have already gotten over 600 signatures (732 as of Monday evening). We could have gotten more but every home you stop at, the resident had a lot to say about the building of a new fire hall. The most common question is, 'Why is our town wasting money on a new fire hall when there are so many other things our town could use?'"
Lester, a 25-year resident of the community, began door knocking in mid-March and hopes to present the petition to town council as a delegation at their April 9 regular meeting, although the town hasn't officially confirmed as of press deadline if Lester will be on council's agenda for that date. Council's subsequent meeting later in the month is on April 23.
"We've got four more days, we're going to go out this week," continued Lester. "Hopefully — I haven't heard back from the town if I'm on the agenda for April 9 to present. By no means is this binding on them, it's just a barometer for the feel of what the citizens of Taber want. Hopefully they make a proper decision."
At the town's Feb. 13 Emergency Services Building Open House, moving the fire hall to a more centralized location had been highlighted as being able to reduce response times by approximately five minutes, increasing the safety of residents and businesses. The Alberta Building Code in 2006 addressed high intensity residential fires (HIRF), identifying a need for fire departments to respond in under 10 minutes more than 90 per cent of the time.
"These people are concerned, and they don't care about this voting on it," said Lester. "Ninety-nine per cent of them do not want the fire hall to move. It's pretty interesting talking to people, sometimes it's 10 or 15 minutes, people are venting. They're upset with what they're (the town) proposing to do. The people want to talk about it, and the people are upset."
Of the 375 people he has spoken to personally, only five reported being in favour of the fire hall relocation proposal, or not familiar enough with the issue to form an opinion.
"So it's a pretty small percentage," said Lester.
Citing an example, Lester pointed to a recent situation in Ponoka where the town officially transferred responsibility for fire protection services within town boundaries to the Regional Fire Services Department operated by Ponoka County, which took over emergency operations last Thursday. The shared fire service between the Municipal District of Taber and Town of Taber was dissolved in 2017 with both municipalities operating their own services, similar to the situation that had prevailed in Ponoka.
"I myself find it sad that our town cannot learn from other towns that have gone down this road and broke away from an M.D. I was just reading about the Town of Ponoka, they split from the M.D. in order to have a separate fire department, but they found that it was not cost effective and had to dissolve their fire department and let the M.D. cover the town's fire protection needs for around a 50 per cent cost savings. I hope our town does not waste taxpayer's money and we end up like Ponoka."
According to that municipality, the Town of Ponoka's regional fire services agreement with Ponoka County is expected to significantly reduce the town's fire protection costs by roughly 50 per cent. Details of the agreement have been posted to the town's website at http://www.ponoka.ca.
Lester has informed members of council of this news in an effort to bring all options to the table for due consideration.
"I've sent it to two councillors. One of them said he's going to look into it."
Citizens interested in participating or wishing to sign Lester's petition still have time to contact him at 587-220-0738, or via email at forrestalester@gmail.com. He encouraged any citizen interested in showing support for the petition to attend council's April 9 meeting. Delegations begin at 5 p.m.
"That would be good if they want to come out. It's been a great experience. We have a lot of nice people in Taber. You don't realize the neighbours we have until you start knocking on doors."