All M.D. hands on deck with flooding concerns
Posted on April 4, 2018 by Taber Times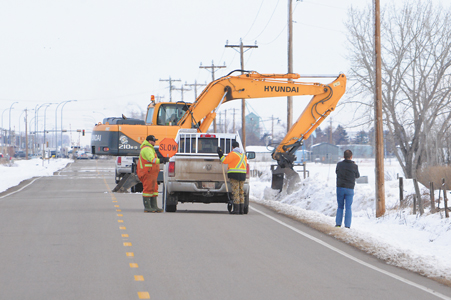 DITCH RIDERS: M.D. of Taber crews work at clearing a drainage ditch on Thursday morning. TIMES PHOTO BY TREVOR BUSCH
By Cole Parkinson
Taber Times
cparkinson@tabertimes.com
Last week's overland flooding state of local emergency was a busy time for all at the M.D. of Taber as they worked tirelessly to keep things under control.
One event late Tuesday night saw a quick evacuation of two different households near Stafford Lake as they were both under threat from the surging floodwaters.
Around 8:55 p.m. on Tuesday night the M.D.'s Station 4 Fire Service (Taber) responded to multiple calls as flooding began to become a major issue.
Both Station 4 and Station 5 (Vauxhall) were attending their ice water rescue training sessions when they were called into action and were immediately tasked with applying their new training in a matter of minutes as the evacuation started.
All individuals were safely evacuated and notifications to nearby houses were also sent.
Later in the night, a second call was received for assisting in placing road barricades and providing further notifications to home owners about the potential flooding in the area.
With colder temperatures reaching the M.D. over the weekend, the immediacy of flooding has subsided for the time being but M.D. staff are still working on flood mitigation as well as snow clearance on roads.
Gravel roads have also seen some heavy damage due to the quick melt and are now under a 75 per cent ban after being unanimously approved at the last M.D. council meeting.
Council had questions on whether or not the ban needed to be put in place with freezing temperatures.
"With cold weather coming, they are going to freeze up again are they not?" asked Reeve Brian Brewin at the M.D.'s regular meeting on March 27.
While the freezing will certainly help things, M.D. staff believes having the 75 per cent ban will be beneficial moving forward.
"They will freeze to an extent but I know in a lot of cases we're running around chasing the damage that's happened. We're not going to be able to get to all of it so if you allow them to keep running on those roads, they are just going to damage it that much more," replied Jeremy Wickson, director of public works for the M.D.
"If we leave it open and we haven't gotten to the one that does freeze, user beware. A common call I get in spring is 'who's going to pay for the damage to my vehicle if I have to run through this'. Most of this is commercial traffic and this will slow down oil industry traffic which is heavier than most of the stuff we see. With the farming operations that I've talked to, most of them even with newer trucks, they promised me they were running at 75 per cent because they knew the roads are wet."
Certain areas around the M.D. have seen impacts greater than others.
"Merrill (Harris, deputy reeve) is seeing most of the damage over in his neck of the woods (southwest of Taber) right now but Murray (Reynold, councillor) has seen a substantial amount in the Enchant area as well. Hays is habitually soft this time of year and all of the sandy roads take a beating as well from oil industry traffic," added Wickson.
While this week looks to see below zero temperatures, next week sees forecasted temperatures well into the positives which will once again lead to the potential of overland flooding.
If residents see a change in overland flooding they are asked to contact M.D. staff at 403-223-3541.