Town declares emergency as flooding menaces water plant
Posted on March 29, 2018 by Taber Times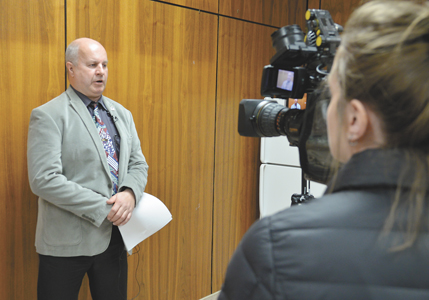 DIGITAL THEME: Based on 2018 survey results, a majority of respondents now use social media to access information about the Town of Taber. TIMES FILE PHOTO
By Trevor Busch and Cole Parkinson
Taber Times
Rising flood waters on Taber's south side are threatening the community's water treatment plant, prompting the town to declare a local state of emergency on Wednesday evening.
Overland flooding is affecting areas south of the water treatment plant (5100 40th Avenue), with water moving north, towards the plant. There has been no damage to the water treatment plant, and town crews remain on scene in the area addressing and monitoring water levels.
"The purpose of the state of emergency is to advise the residents of our community of potential flooding issues, and the fact that the south end of Taber, of our water treatment plant and water reservoir, is where the overland flooding is occuring," said Mayor Andrew Prokop, addressing media during a press conference on Wednesday evening. "This is in no way, shape, or form to panic our residents, it is simply to inform. We have crews on scene on the south side of the reservoir currently digging a trench to create further flow of the water in question."
In an update on scene at the water treatment plant on Thursday morning where emergency operations continued, CAO Cory Armfelt confirmed water elevation levels were being wrestled under control, but the situation could still deteriorate.
"I can tell what we've got here is the elevation has dropped eight inches to a foot of the water that is standing out there right now just by getting it to head west, which is where it should be heading. Now we have a pump that is active, pumping water from this area into our sanitary sewer system and controlling what's happening on this side of it. We're working to make sure the elevation declines as much as possible here." 
"If the water was to breach to this point and get into the facility and shut the facility down for any reason, we do have about two days of water for domestic use. Given the fact that this was rising uncontrollably yesterday and it's warmer than anticipated today, I'm assuming that the inches of snow we got yesterday are going to be melting today which makes the problem worse."
The town is working closely with the Municipal District of Taber — which declared its own state of emergency due to overland flooding last week — to help rectify the situation with the least impact on area infrastructure.
"They have situation reports a couple of times a day and I'm talking to their CAO (Derrick Krizsan) and their public works staff to co-ordinate efforts here. We are staying directly in touch with the M.D. to make sure they're aware of what we're doing. The issue here with this water is it is actually coming into town and it has to flow back into the M.D. and then back into town in order to get to where it needs to go, north and west of town. The water doesn't care about the municipal boundary, so it's inevitable that we work together."
According to a statement released by the town, at this time there is no need for residents to restrict their use or boil water. The state of local emergency will remain in effect until the overland flooding has subsided, and town staff will continue to work around the clock to monitor and address the situation.
"We are attempting to create a situation where water can drain away from the water treatment infrastructure to the west of our town reservoir," continued Prokop. "The flooding has not yet affected our water treatment plant, and our staff will be monitoring the situation at the plant 24/7 to ensure the safety of our water supply. We would please ask that the public check their property to make sure that the drainage systems are clear so that water can properly drain. Updates will be provided on the town's official website and social media channels. If you have any questions, please don't hesitate to ask. For 24 hour contact, please contact the Taber Police Service regarding flooding issues at 403-223-8991."
Prokop confirmed that the town was not aware of any residential properties being significantly affected by flooding concerns.
"No we are not. The current flooding location is away from the residential area and going the other way at the moment, and we hope that continues without any further issue. If the water rose higher and got into the water treatment plant infrastructure, we could have a major problem on our hands related to the normal treatment of our water supply."
No timeline has been put in place regarding the duration of the local state of emergency, but Prokop indicated it would remain in effect for as long as necessary in order to effectively deal with the situation.
"As long as it takes — I don't know. I'd like to say an actual timeframe — if it was inside 24 hours that would be great — but it may be as much as a week or 10 days. It's a guesstimate at this stage at best."
Prokop is confident the measures being undertaken by the town will be enough to mitigate flood waters potentially imperiling the town's water supply.
"I believe so. I was out there to have a look at what the plan is, and where they plan to divert the water in question. It's a flow that's necessary to take place, and it also depends on the melt, how fast a melt, what temperatures we've got. There's a variation of factors involved that may create further difficulties."