Flooding has M.D. of Taber on edge
Posted on March 29, 2018 by Taber Times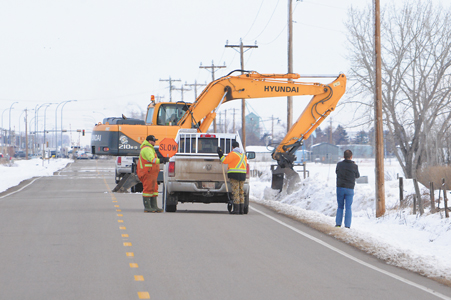 DITCH RIDERS: M.D. of Taber crews work at clearing a drainage ditch on Thursday morning. TIMES PHOTO BY TREVOR BUSCH
By J.W. Schnarr
Alta Newspaper Group – Lethbridge
A state of emergency continued within the Municipal District of Taber through Wednesday due to "severe" overland flooding.
An update on the M.D. website stated the affected areas include south of the Oldman River between Chin and Grassy Lake.
The M.D. was also receiving reports of flooding in areas north of the Oldman River from Retlaw south to the Oldman River.
Many roadways are being impacted by overland flood waters which may not be barricaded or posted, so caution is urged when driving.
Alberta Environment and Parks Water Act Compliance personnel have been actively engaged in education and enforcement of the Water Act.
On Tuesday, six landowners were ordered to cease pumping or to fill in excavations which were dug to drain agricultural fields.
The M.D. is requesting patience and caution be exercised by M.D. ratepayers while the issue continues to be dealt with.
Landowners are requested to not increase water flows by unnecessary pumping or excavation.
Additional volumes of water pumped into roadways will threaten neighbouring lands and residential properties as well as threaten irrigation and municipal infrastructure.
The M.D. of Taber announced the closure of the following roads due to flooding:
Township Road 9-4 from Range Road 17-0 to 17-1; Township Road 8-4 from Range Road 17-4 to 17-2; Township Road 9-4 from Range Road 14-5 to 14-3; Range Road 15-3 between Township Road 10-0 and 9-2; Township Road 9-2 between Range Road 19-0 and 18-2; Range Road 18-3 from Highway 3 to Township Road 10-0; and Range Road 17-2 North of Township Road 10-0.
Numerous other roadways throughout the M.D. of Taber are water covered. Additional roadway closures are expected in the coming days.
Further, M.D. council has declared all gravel roads in the M.D. are subject to a 75 per cent road ban, as heavy trucks have damaged a number of saturated gravel roads and this measure has been implemented to protect municipal infrastructure.
Taber Irrigation District have also issued a statement to M.D. ratepayers urging them to avoid disturbing melting snow if possible.
"Disturbing snow from a natural melt in place process will cause the snow to mix with water creating frazil or slush that will compress and create blockages at any point of constriction," the statement reads on the M.D. of Taber website.
"Constrictions include but are not limited to road crossings, trash racks, approaches, culverts and narrowing ditches or canals. Other factors that contribute to frazil include water rushing towards snow and sudden dropping temperatures.
"If possible it is recommended to let snow melt in place allowing it to carve out its own channel and remain in the state of water to flow."
TID was also reminding people not to pump or divert water into TID canals without consent, and to exercise caution around the banks of canals, which may not be stable and could be dangerous.