Student's artwork to be featured across Alberta
Posted on March 28, 2018 by Taber Times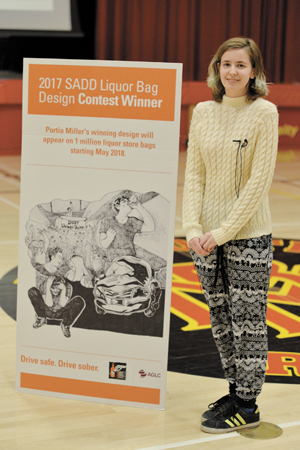 MESSAGE RECEIVED: Portia Miller is all smiles after hearing her entry into a Students Against Drunk Driving design contest was selected to be featured in a province-wide campaign starting on the May long weekend. TIMES PHOTO BY GREG PRICE
By Greg Price
Taber Times
gprice@tabertimes.com
Emerging from a field of 350 entrants province wide, a W.R. Myers student's artistic flair has got her recognized by Students Against Drunk Driving (SADD).
Grade 11 student Portia Miller was crowned the overall winner of the third annual SADD Alberta Liquor Bag Design contest.
The design will be featured on one million brown paper liquor bags, and distributed to liquor stores throughout the province, starting on the May long weekend.
SADD Alberta, in partnership with the Alberta Gaming and Liquor Commission, has implemented a liquor bag campaign whereby Alberta students of all ages can add their personal message on the dangers of impaired driving to a paper liquor bag. This activity assists educators in continuing the conversation about the dangers of drinking and driving.
Teachers, or project co-ordinators, order their free paper liquor bags online, then distribute the bags to their students so they can add their personal message and creative artwork on the bag. Once the students complete their messaging, an adult or teacher collects the bags and provides them to local liquor stores.
There have been 299 schools that participated in the initiative with over 63,000 messages put on liquor bags. Teachers were asked to submit the entries they thought were best for the design contest that saw top three entries honoured from Kindergarten to Grade 6, Grade 7 to 9 and Grade 10 to 12, along with an overall winner chosen.
Submissions were judged on originality, messaging and design.
"I wanted to really signify the regret you feel after making horrible, sad decisions. I wanted to show the whole scene, you are out partying and having a good time and not thinking when you are making this decision," said Miller to a packed Myers gymnasium last week when asked about the inspiration for her liquor bag entry. "When you get in the car, you just want to get home and then you make a horrible mistake. Your whole world flip flops. It's just a tragedy."
Miller was excited about the recognition, where she admitted she did not even think being among the top entries was even possible when it was first submitted late last year. When she was first contacted, she thought she placed, but was not the overall winner.
"It took about a week (for the completion of the design). I started out drawing the car. I wanted to draw a cool car because I've always wanted to drive one. Then I drew him sitting next to it. My art teacher, he was like 'have a rave going on in the background. It would be so much fun," said Miller. "I drew the party and showed what he was doing in the past, doing the bad. Then he drove home and broke his car and hurt someone and hurt himself. Then I was showing the regret."
Art is one of Miler's passions in life, something she hopes to pursue for a living.
"I want people to see it (the liquor bag) and be like I don't want to be in that situation where my world crashed down and this is all that I'm seen as. I want people to see themselves in this person's shoes," said Miller, adding it is tough to wrap her mind around how her artwork will be displayed all over the province on one million different liquor bags. "It's crazy, crazy. I never imagined, it's insane, it's insane. A million of anything is insane."
Drinking and driving has not personally affected Miller's life, although she did admit getting into a car with a drunk driver once, not wanting to make a scene with peer pressure while hanging out with friends. It was a a decision she instantly regretted.
"It was one of the most terrifying things. How can people think that's OK? How can people think it's all right?" questioned Miller. "How can you think about driving when you are in that state of mind? You are not only putting yourself in danger, but you are putting your passengers in danger, you are putting other people (on the road) in danger."