Cannabis retail locations draws split vote
Posted on March 28, 2018 by Taber Times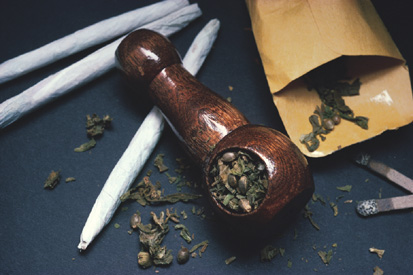 TIMES FILE PHOTO
By Trevor Busch
Taber Times
tbusch@tabertimes.com
Potential cannabis retail locations in the community will only be subject to official separation distances from schools and hospitals — not churches, daycares or residential areas — following a split 4-3 vote by town council.
On Feb. 16, the provincial government released further legislation on cannabis which provided additional direction to town administration in terms of preparing amendments to the necessary bylaws based on council's direction.
The additional legislation includes updates to the Alberta Gaming, Liquor and Cannabis Regulation that will govern how private retail will operate, including who can own cannabis stores, where they can be located, staff requirements, safety and security requirements, and other operational details.
At town council's March 12 regular meeting, administration was seeking direction from council regarding amendments to the Land Use Bylaw and Business License Bylaw. Under the Land Use Bylaw, council had previously provided direction to administration to only permit cannabis-related uses within a direct control district subject to the sole approval of council.
The province has established that retailers must be at least 100 metres from schools and hospitals. At the same time, municipalities have the flexibility to create their own rules for various locations.
"Essentially any area outside of those buffers, somebody could come to you as a council and say they would like to open up a store, and then you would use your direct control discretion to allow it," said planning director Andrew Malcolm on March 12. "Again, the discretion is to council in a direct control, but this would help give some guidance to the public as to what might be an appropriate location. Within the planning and development department, we've had probably over half a dozen inquiries now, and it's very difficult to give them any direction in terms of whether or not they should start investigating how they're going to invest potentially thousands of dollars to look into this as a feasible business in town."
Administration recommended amending the Land Use Bylaw to add a subsection for cannabis retail sales within Part 3: Rules Governing Specific Uses, but required direction from council on the separation distance and the list of uses. Various scenarios were presented if this separation distance were to include places of worship, daycares, or proximity to residential areas.
Restricting cannabis retail separation distances to schools and hospitals would largely leave the downtown area open for a cannabis retail, with the exception of the vicinity of ACE Place Learning Centre and Taber Mennonite School.
Including places of worship would eliminate most locations in the downtown area, while adding daycares and proximity to residential would restrict most potential cannabis retail locations to the industrial area.
In response to a question from Coun. Joe Strojwas, Malcolm indicated that an incoming school or hospital within 100 metres of an existing cannabis retail location would not force the business operator to relocate.
"When a building gets approved, it's all about what the current context is. If a school then decided to locate next to an existing cannabis retail, then the cannabis retail would be able to exist. Now, if next door to that cannabis retail somebody came for a second cannabis retail, they would fall within the rules that there was an existing school there. It's up to the due diligence of the school not to locate within that parameter, but a new school cannot make an existing retail cannabis store relocate."
Mayor Andrew Prokop indicated he had already heard from established business operators that would consider a cannabis retail location unacceptable anywhere in the downtown core.
"I've had some concerns brought to me about literally anywhere in the downtown core as being unacceptable. That's a view not accepted by some individuals in the business community, that's a handful of people I'm talking about at the moment, but if that's the case that's the message."
Coun. Louie Tams argued that a downtown core location makes the most sense for any retail business operation of this kind.
"I know people have brought that up, but in my mind, the proper place is downtown, not out in the industrial area, not on a home licensing permit — it belongs downtown where it's clearly visible, clearly public, and far enough away from the schools, like the outreach school that we have downtown — but I tend to think 100 metres from hospitals and schools, and in the downtown core, is where it really belongs. It's a retail location, and a retail store, and whether we like it or not the province says its coming, so let's control it and put it in our downtown core because that's where I think it belongs."
Coun. Jack Brewin alleged that odour concerns associated with this kind of business should supersede other considerations.
"I disagree with Councillor Tams. Downtown, like the mayor said, he's had people say they don't want to see it downtown. For a building to come in, and the smells associated with the building's marijuana, sometimes it's not the most fragrant. Somebody sitting in a restaurant right beside it, I could see how that might not be acceptable."
Strojwas commented that odour concerns would be unlikely due to regulated packaging and other mitigation efforts, an assertion Brewin disputed.
"Have you ever been to one? Maybe I'm speaking from a little experience. There's quite a strong smell emanating from most cannabis retail stores."
If the concern was on-site consumption, Coun. Carly Firth pointed out this was prohibited under the provincial regulations.
"I believe in the provincial framework there's regulations that prevented you from consuming it in a retail location. The consumption in retail locations wouldn't be an issue, and I tend to agree with Councillor Tams, it belongs downtown. It's a retail business, and that's where retail businesses are generally located."
If separation distances and other land use regulations are so restrictive as to prevent a downtown core location for a cannabis retail operation, Coun. Garth Bekkering suggested it would make more sense to outrightly prohibit the sale of the substance throughout the municipality.
"There's many, many opinions on this particular subject, and that's good. I agree with Councillor Tams, if you're going to restrict the retail sales of cannabis in the downtown, then for heaven's sake let's not have it in town at all and let's just say no to retail sales in the town of Taber. Because if you make it so prohibitive it makes no more sense."
Tams was still in favour of potentially allowing a downtown cannabis retail location.
"It's still under direct control, and if council's wish is to have it in the retail sector, then I still think we need to deal with Map Number 1 (100 metre separation distances from schools and hospitals only), and an application is still coming here to council to get approved. I still think that's the way to go."
Strojwas agreed.
"Map Number 1 is the best terms for the DC (direct control), and that way we'll have the final say going in there. Logistically, that keeps it mostly in the downtown business core."
Malcolm illustrated that a direct control district still affords councils a great deal of leeway in making decisions, including denying potential applications near daycares or places or worship if it was decided this wasn't in the community's best interests.
"I would suggest the Land Use Bylaw itself outlines what you should consider in terms of making a good decision for land use, looking at adjacent land uses that discretion would allow you to eliminate anything right adjacent to a church, adjacent to residential. You would be able to put in controls in terms of what the landscaping might look like — essentially crime prevention through environmental design — making sure the site is safe and doesn't present potential obstacles. Anything that you think is generated negatively from this use."
In relation to the Business License Bylaw, council had previously outlined that it would like to increase regulations on the business license process by requiring a specific business license for cannabis-related businesses, require police checks, and increase business license fees to $500 (or more) per year for cannabis retail sales, $1,000 (or more) for cannabis lounges (once legalized), and $2,500 per year for production and distribution.
Updates to the Gaming, Liquor and Cannabis Regulation govern how private retail will operate, including mandatory background checks for retailers, employee criminal background checks, and disqualification for anyone with previous convictions for trafficking or producing controlled substances or associations with organized crime or violence.
Hours for a cannabis retail store will be set the same as a liquor store (10 a.m. to 2 a.m.), but municipalities have the ability to set their own operating hours.
Administration recommended amending the Business License Bylaw to include similar cannabis-related definitions similar to the Land Use Bylaw, require proof of a provincial cannabis license prior to a municipal license being issued, requiring a unique business license for cannabis uses with no ability to amend an existing license, identify the municipality's operating hours, and amend the fee structure.
Following discussion, council voted 4-3 to accept the recommendations as information, and directs administration to bring forward the necessary amendments to the Land Use Bylaw including the specified distance of 100 metres from schools and hospitals, and bring forward necessary amendments to the Business License Bylaw, including business hours of 10 a.m. to 10 p.m., with a fee schedule of $500 per year for cannabis retail sales, $1,000 for cannabis lounges (once legalized), and $2,500 per year for production and distribution. Mayor Prokop and Coun.(s) Brewin and Mark Garner opposed the motion.