Youth continue to shine at APEX
Posted on March 21, 2018 by Taber Times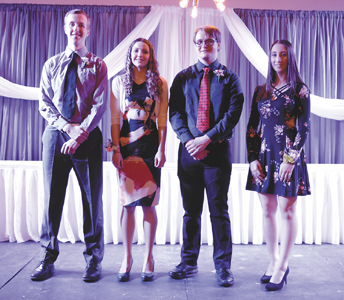 SHINE ON: APEX Youth Award winners Andrew Makarchuk, Renae Saunders, Peter Waeckerlin, and Mackenzie McNiven bask in the glow of the camera flashes and good wishes of friends and family following the awards ceremony on March 14 at the Taber Community Centre Auditorium. TIMES PHOTO BY TREVOR BUSCH
By Trevor Busch
Taber Times
tbusch@tabertimes.com
The gala event of the season for the region's outstanding young people, the APEX Youth Awards concluded on Wednesday evening with four well-deserving candidates as recipients of prestigious bursaries.
Andrew Makarchuk, Renae Saunders, Peter Waeckerlin and Mackenzie McNiven took home top honours, while Leila Pacleb and Brittany Wickenheiser were also recognized as runners up.
All 14 nominees were recognized at the banquet for their accomplishments and community service, and the four winners were presented with $1,500 bursaries that were sponsored by four local businesses (Legacy Dodge, Avail CPA, Grower's Supply Ltd. and Co-op). The two runners up receive $250 awards from the APEX Committee.
The APEX Awards were developed to recognize individuals who represent the best qualities in Taber and area youth, who selflessly give of themselves in the service of others.
"It's pretty cool to see all of the people that have come out, to hear what people have said about me, it really makes me feel kind of humble to be honest," said Taber's Andrew Makarchuk. "I'm grateful to everyone that put on the event, the catering, the singers, everyone that made it possible."
A theme among most recipients, Makarchuk plans to put his bursary toward post-secondary education south of the 49th parallel.
"I'm putting it towards school, I'm going to Minot State in North Dakota playing golf on the golf team there. I'm looking forward to it."
Hosted at the Taber Community Centre Auditorium on March 14 and sponsored by the APEX Committee and The Taber Times, this year's event — celebrating 17 years for the APEX Youth Awards — featured youth nominees hailing from Taber, Vauxhall, Hays, Barnwell and Grassy Lake, among other communities.
"I'm extremely honoured, just in general," said Renae Saunders, who also hails from Taber. "I think that APEX is such an awesome thing in our community, and I'm excited that they honoured me. I never thought this would happen."
Saunders also plans to use her award for her future education.
"I'm putting it towards school, I'm going to Western University in London, Ontario, for medical sciences in the fall."
Over the past 17 years the APEX Youth Awards have recognized and celebrated the contributions of approximately 350 young people who have made a difference in their community. With the continued support of local business, as of 2015 there has been $90,000 in bursaries given to 60 APEX winners.
"I'm honoured, it's a great honour to win an APEX award," said Peter Waeckerlin, another Taberite. "I'm happy that I was able to be amongst all these great people."
Waeckerlin plans to attend the University of Regina.
"I'm going to put it towards school, probably pay for some textbooks, I'm going to the University of Regina next year for education and to go on the wrestling team."
In 2002 the APEX Youth program started as a partnership with the Taber Rotary Club and The Taber Times, but when the original Rotary Club of Taber disbanded in 2008, concerned community leaders felt the APEX program was important enough to continue. Together, they formed the APEX Committee and along with The Taber Times continued to organize the event.
The banquet is made possible by the generosity of the local business community. Their contributions allow all the nominees and two members of their families to attend at no cost.
Vauxhallite Mackenzie McNiven confessed she has always been surrounded by people who wished to facilitate her passions, rather than curtail them.
"I'm really honoured, there's a lot of people that helped me get here. I have a passion for things, and they're the ones that have allowed me to do it."
McNiven has her sights set on a future medical career.
"School — I want to go to UBC after I graduate, I'm not sure about bio-chem or neuroscience, but I want to eventually become a doctor."
The event's guest speaker was Marten DeVlieger, who talked about his lifelong struggle with cystic fibrosis and how this affliction has driven him to succeed rather than despair about his future.
"I'm not telling you this story of myself for you to feel bad for me, because I don't want you to feel bad for me. I've lived a good life, and God has blessed me solely with a good life. Although it's a horrible disease, and people are dying constantly — my sister went through a double lung transplant — it's a horrible disease, don't get me wrong, but I wouldn't trade it for the world because it also has made me a lot smarter, and made me realize that life is short. I'm not going to waste tonight when I go home, I'm not going to waste tomorrow with my kids. I'm not going to waste any time, because I know that it could be over tomorrow."
DeVlieger impressed upon the nominees the need to follow their hearts and seize opportunities regardless of what others may think.
"So I would like to really instill all the people, and the nominees today, that moving forward in your life look in your heart what you really want to do, and what you want to do in the future. And if you have a dream, or a passion, or an idea — don't let anybody stand in your way. If someone says it's a stupid idea — I've been laughed at a lot in my life — if someone says it's a stupid idea, it will never work, you're just dreaming… follow that dream. God gave us one chance in life, and we need to take that opportunity and make it into the best situation that we can. Everybody here in this room has a struggle — it might not be the same as mine, it might be physical, it might be mental, it doesn't matter — it's what you take from that situation, and make from that situation."
The key to success comes from within, concluded DeVlieger.
"I just want everyone to look in their hearts here today, and don't waste time. Don't just give in to the easy path, or because everybody says you should. It doesn't matter if you're economically smart, it doesn't matter if you're musically inclined — whatever you're good at, or whatever you dream, follow that dream and you will fly."