MLA Hunter apologizes for tsunami comment
Posted on March 1, 2018 by Taber Times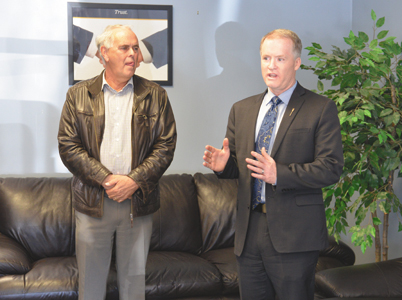 TIMES FILE PHOTO
After receiving backlash over comments made during a nomination announcement, Cardston-Taber-Warner MLA Grant Hunter has apologized.
Following a Feb. 26 announcement confirming his intention to seek the UCP nomination for the new Taber-Warner riding, Hunter has come under fire for a comparison between the NDP's 2015 election victory and the 2004 southeast Asian tsunami.
"I in no way meant to trivialize the human suffering of the 2004 tsunami," Hunter said in a statement to the Alta Newspaper Group. "If my statement came across that way, I sincerely apologize."
Hunter's initial comments were paraphrased in the original article, "Hunter announces UCP candidacy for new riding", which was published in the Feb. 28 edition of The Taber Times.
Here is a full transcript of the comments made by Hunter on Feb. 26, where he details his thoughts regarding a recent trip to southeast Asia before attacking the NDP government's record:
"I'm going to step back just a little bit here. So my wife and I took our two youngest kids to Thailand and Cambodia, we just got back — so if I start babbling, it's because of the jet lag, I don't normally do that. So we were going over there, we recognized there's the possibility there could be a natural disaster over there, because in Thailand they did have a natural disaster, the tsunami there devastated much of the coastal area there. So we talked about what would happen in the case of a natural disaster and how you would mitigate, what do you do, what are the signs you look for."
"Two and half years ago, there was another type of disaster that happened in Alberta. There was an NDP anti-Alberta socialist government that was elected here. Now I have no problems with the NDP, they're nice people. Some of the nicest people you meet. The problem is, I do have problems with the way that they've taken Alberta. I do have problems with the direction that they've taken us. So my goal, and desire, is to be a part of the solution. The solution to fix where we're at right now in Alberta. And where are we at? By the time this accidental NDP government is finished, we'll be over $94 billion in debt. We'll have probably one of the worst, and largest, red tape government sizes in Canada. We'll have a government that introduced Bill 6, which has been absolutely devastating to farmers, especially small farmers. And they've introduced the largest tax grab in Alberta history, the carbon tax."