Town adopts workplace drug and alcohol policy for police staff
Posted on February 21, 2018 by Taber Times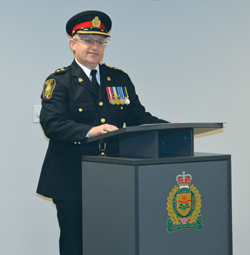 TIMES FILE PHOTO
By Trevor Busch
Taber Times
tbusch@tabertimes.com
As law enforcement and municipalities prepare for the advent of cannabis legalization in mid-2018, many are updating their workplace drug and alcohol policies in advance.
Overall, the town's Workplace Drug and Alcohol Policy (for law enforcement and related employees) simply prohibits the use of drugs and alcohol by members when on duty, and sets forth procedures to deal with any employee that potentially violates those stipulations.
At their Jan. 11 regular meeting, the Taber Municipal Police Commission voted unanimously to recommend town council adopt the policy for employees working under the supervision of Taber Police Service Chief Graham Abela.
Safety sensitive positions covered under the policy include police officers, auxiliary police officers, communications operators, "anyone expected in the course of their duties to answer 9-1-1 or police complaint lines", and jail guards.
Any violations of the policy and associated procedure may result in disciplinary action, up to and including termination of employment, in accordance with the terms of the employee's governing collective agreement or "any other agreement, policy or procedure or any applicable legislation."
"Just to give you some background on our policy, it was developed by the Edmonton Police Service with extensive legal opinion and legal input, and shared with the rest of the chiefs of police in Red Deer, as a best practice for police agencies to share in the province," said Abela, during town council's Jan. 22 regular meeting. "It's been adapted for our purposes."
The policy lays down that the TPS will conduct drug and alcohol testing when a member in a safety sensitive position or engaged in safety sensitive tasks appears to be unfit for work or duty due to the use of drugs and/or alcohol; there is reasonable belief that drugs or alcohol may have been a contributing factor to an incident; or during the course of rehabilitation or return to work planning.
"Members must always use any legal drugs or alcohol responsibly as directed and in accordance with the law and health professional(s)," reads a statement in the policy.
"Reasonable grounds" includes such information as established by direct observation of the member's conduct or other indicators such as physical appearance, a smell associated with the use of drugs or alcohol, their attendance record, circumstances surrounding an incident, and the presence of alcohol, drugs or drug paraphernalia in the vicinity of the member or areas worked.
Reasonable grounds for investigation may exist if there has been possession or sale of illegal or illicit drugs at the workplace, as a result of the member's conduct and behaviour at work, post incident, or as a result of off duty conduct or convictions.
Members must comply with a request made by a "representative of TPS" to submit to a drug and alcohol test made under the procedure, participate in further assessment, and comply with any other request made under the policy.
Members are responsible to maintain safe and acceptable job performance at all times, and "accessing assistance or declaring a problem or dependency does not eliminate the requirement for members to comply with the Workplace Drug and Alcohol Policy and Procedure."
While sworn members are required to report any drug or alcohol related charges, or any vehicle license suspensions or disqualification related to drugs and alcohol, this will also apply to civilian members in safety sensitive positions or "engaged in safety sensitive tasks" where this requires a valid license.
Should a member not provide authorization respecting drug and alcohol testing, "the TPS will treat the test results as non-compliant with policy and procedure, and implement appropriate subsequent steps" which could include discipline or termination for cause.
The policy will also apply to independent contractors and consultants who perform work for the TPS, and will be expected to enforce the requirements and terms of the policy with their own employees, or demonstrate that their own policies and procedures meet or exceed the requirements of the TPS policy, even with regard to sub-contractors and other agents.
Any contravention of this "may be considered a breach of contract."
Following discussion, council voted unanimously to adopt the Workplace Drug and Alcohol Policy for employees working under the supervision of TPS Chief Abela. Coun. Joe Strojwas was absent from the meeting.