Emergency Services Building open house packs the house
Posted on February 21, 2018 by Taber Times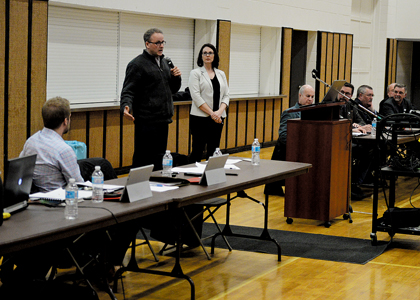 FIRING LINE: CAO Cory Armfelt fields a question during the town's Emergency Services Building Open House in February. TIMES FILE PHOTO
By Trevor Busch
Taber Times
tbusch@tabertimes.com
A sizable crowd of Taberites attended the Town of Taber's Emergency Services Building Open House on Feb. 13 to hear the town's pitch for the facility and voice their opinions on the need for a relocation.
The evening commenced with a presentation from town administration regarding the business case for the facility's relocation and an emphasis on its implications for town growth and housing development.
Moving the fire hall to a more centralized location has been highlighted as being able to reduce response times by approximately five minutes, increasing the safety of residents and businesses. The Alberta Building Code in 2006 addressed high intensity residential fires (HIRF), identifying a need for fire departments to respond in under 10 minutes more than 90 per cent of the time.
Due to this decision, towns with fire departments unable to achieve this threshold within their response areas would require new buildings to have sprinkler systems installed, increased setbacks or changes to windows and non-vented soffits. As a result, developers in the community have been required to build homes with very specific materials and setbacks, raising the cost for housing.
"That is really how all this all started, is due to fires jumping from one house to the next, and mitigation measures that either had to go to the development community, or to the builder to deal with that issue," said CAO Cory Armfelt.
Conversations regarding the potential relocation of the emergency services building in Taber have been ongoing since 2009.
A 10 minute response time is composed of five time components, including chute time and travel time. The biggest factor involved is how far the residential areas are from the current fire hall. Travel to the fire hall is by volunteers in their vehicles with regular traffic laws being followed. All areas outside of the response time require additional construction requirements, including all current development areas within the town.
"No new growth in this town currently lies within that 10 minute response time," said planning director Andrew Malcolm.
To replace the current fire station with all the amenities of the current hall, some early estimates ran as high as $5-$6 million, but in the HIRF Committee's report, it was stated that through review of information compiled by fire chief Steve Munshaw, the total cost of relocating and constructing a new fire hall is now estimated to not exceed $2.5 million. This estimate was based on the construction of similar facilities at various locations in Alberta.
The town was recently left approximately $2.4 million from the estate of a local benefactor after he passed away in October 2016. Following in camera discussion at their July 17, 2017, regular meeting, council voted unanimously to set aside $1.5 million dollars of the donation for a new fire hall building.
According to administration, relocating the fire hall to a more central location, specifically within a 500 square metre radius of the 50th Street and 50th Avenue intersection, would meet the province's regulations under HIRF mandating a 10 minute response time.
"You can see that all of the town is within that area, with the exception of the far north side," continued Malcolm. "Potentially for the next 85 years at a one per cent growth rate, we would have our developable area within a 10 minute response time."
Other funding sources would be required to achieve a $2.5 million total for the project. The Modernized Municipal Government Act has expanded eligible capital projects that can be funded through an offsite levy to include public facilities such as fire halls, which could account for up to 50 per cent of the project total.
While other grant options are also being explored by the town, the project would probably require an increase in property taxes, although administration stressed that the impact on the taxpayer "will be minimal." The HIRF Committee Report indicated that if 30 per cent of a new fire hall was paid for by rate payers it would likely represent an increase 0.6 per cent, or $6.00 per $100,000 of assessed property value for residential and $7.22 per $100,000 of assessed property value for non-residential.
Administration was also careful to note that "any decision on relocating the fire hall will not be made until a full analysis of costs and impacts on taxpayers is fully understood and shared with the public."
In September 2017, council and administration evaluated 14 sites based on a comprehensive evaluation
matrix. The sites were identified due to size of lot, ease of consolidation, and ownership. All sites evaluated had access within 500m2 of the 50th and 50th intersection with exception of one.
Administration recommended the two "highest ranked" locations to council during the in camera portion of their Aug. 21 regular meeting. One of the town's proposed sites was located northwest of the curling rink, while the other location being recommended by town administration was the southeast corner of town-owned property near Dr. Hamman and St. Pat's schools.
Both sites received public opposition. After further review, council decided to remove the sites at Dr. Hamman soccer fields and the curling rink parking lot, and any within Confederation Park, following in camera discussion at their Feb. 12 regular meeting the day before the open house on Feb. 13.
The town's fire hall decision was also a heated topic during the recent municipal election campaign, and dominated debate at the town election forum at the Heritage Inn on Oct. 12. The Taber Times has also received and published multiple letters to the editor – both for and against – regarding the fire hall decision.
According to administration's presentation, developers and builders find it increasingly difficult to build in Taber and would rather invest in markets where a 10 minute response time can be met, such as Coaldale and Lethbridge. With "investment in value added agricultural processing poised to boom in southern Alberta, access to workforce, quality of life, and affordable housing all go hand and hand with construction costs and are some of the most important criteria in a site selector's evaluation. Lack of new development of homes under $250,000 is major gap in Taber's housing."
Throughout the process the town has looked at several alternatives including a full time fire department, a satellite station, or grant programs to offset construction costs. According to administration, "these alternatives may address the HIRF requirements but do not address the other issues/impacts."
Council will take the technical assessments provided by administration and the feedback from the public open house into consideration to help determine a direction for the emergency services building.
Editor's Note: For a story on the question and answer portion of the open house with citizen comment, please see the story "Fire hall open house draws questions from the crowd" on our website, or on Page A2 of the print edition.