The Devil is in the details
Posted on February 14, 2018 by Taber Times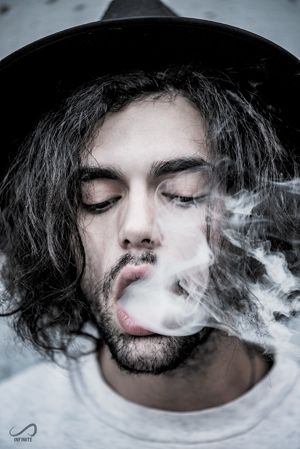 SMOKING TRACKS: Tyler Gouw and the rest of the collaborative team of $am Hill have been doing several shows around southern Alberta. TIMES PHOTO SUBMITTED BY ANDREW BOYCHUK
Editor's Note: Readers are advised that the article below contains instances of derogatory language.
By Greg Price
Taber Times
gprice@tabertimes.com
Admittedly a glass-is-half empty sort of a guy at times, Tyler Gouw (aka $am Hill) has found lyrics to be his comfort as he tackles issues of the day.
It's easy to see that as the collaborative team of $am Hill walk into a drinking establishment wearing the phrase 'I'm In Love With My Sadness,' on their hoodies, just in time for the romance of Valentine's Day.
Growing up in Taber, Gouw always loved music, be it Blink-182 or Outkast to satisfy his appetite for expression.
"I liked a vast variety of music. I was always performing in my basement, lip synching and having fun," says Gouw. "It wasn't until Grade 12 that I really started writing. It was a new wave of music that inspired me making music about consciousness and spirituality in hip hop that was really underground like Joey Badass who is my age."
Gouw found his lyrics powerful, and a very big change from the 'gangster' themed hip hop that dominates the airwaves at times.
"It really delivered a message in getting a following," said Gouw. "We still want to party and have fun with our music, but it is also sending out a message, and with $am Hill that message is a little darker."
Collaborating with Taylor Wall (co-producer) and Braden DeBona (co-producer and vocalist), the persona of $am Hill was adopted. Sam Hill is an American English slang phrase, an euphemism or minced oath for "the Devil" or "hell" personified, thought to have originated back in the 1830s.
"As I was trying to relive things through my lyrics, I was noticing they were having a dark vibe, so I had to label it that I was bringing out my demons, so I came up with the slang term for the Devil," said Gouw. "That phrase. 'what in Sam Hill was that?'"
While admittedly darker in the shades of grey with his hip-hop lyrics, the underlying tone has rays of hope.
"It's always believing in yourself and saying fuck what everyone else thinks," says Wall, adding there are naysayers out there that a small-town boy out of Taber wants to enter the rap/hip hop game. "It's releasing your demons."
Members of $am Hill have been friends with each other since grade school. Gouw recounts his ironic nickname in his youth as he played sports.
"They called me Smiley when I played hockey because I literally never smiled. I just sat there staring forward, talking monotone and really saying nothing," said Gouw, who admits he is almost weary of his prolonged amounts of happiness. "I have to say, I'm my own worst enemy. I'm mad that I'm stuck in this town, but at the same time so happy to be in this town, because I have my friends around me and I wouldn't have been able to make this music without them. To say there's one issue that drives my music, I can't, it's just my mind. One moment I'm happy and another I'm not. I do know I'm happy when I make music and I'm trying my fucking best to make sure that happens to the point I can make a living out of it."
Never really been known as being shy growing up, exploring hip hop didn't have Gouw coming out of his shell, but rather just making the shell bigger according to the artist. It was when Wall and DeBona came into the picture when he started taking his music more seriously. DeBona was in a metalcore band for years (Letters to the Ocean) who had experience in touring and Wall made Gouw appreciate the business side more of the art form.
"Coming from writing and performing, I had to trust myself that what I was doing was going to be heard and put myself out there. I was shy about that at first, but now I'll freestyle in front of anybody at any time," says Gouw. "Our last set, our sound system got all messed up. So I grabbed the mike and started beatboxing and freestyling to everyone and they were saying that was the best part of the set," continued Gouw with a chuckle.
In its infancy with approximately 15 shows under their belt, $am Hill had upcoming shows in Lethbridge, Medicine Hat, Calgary, Kelowna and Golden, and another possible show in Edmonton.
It's hard for $am Hill to know exactly how many original songs they have produced, constantly writing and scratching off the old stuff. Usual sets are between 10 to 12 songs, with a full array of musical accompaniment of guitars, drums, keyboards etc. Recently, a videographer has come on board to capture the small and big moments of $am Hill.
"Those are hand-picked songs and we have lots of songs," says DeBona. "We are constantly making music all the time."
"The fact that we pump out all these songs is that every day we are getting together and force each other to work on or edit an old song," added Wall. "There are sometimes creative differences."
For Gouw his words are his therapy, where the struggles he feels within can be put from pen to paper as opposed to rather more destructive behaviours.
"It's totally like therapy. I can write the most meaningful lyrics to me going through shitty times and when I listen to those lyrics about shitty times, it makes me fell better," says Gouw, be it heartbreaks, depression, addictions, anxiety etc. that Gouw has been exposed to of big-city problems in small-town settings. "It hurts so good. It's sort of like seeing a drag race car that has flames on it that is on fire. It kind of makes me want to laugh with the irony, but it also makes me want to cry."
The trio will be having multiple projects on the go with $am Hill being hip hop and as that gains exposure, try and do $ammy and the Fiends.
"$am Hill will be hip-hop sets while this one (Fiends) will be more heavy with guitars and drums," says Gouw, as the trio hope an EP will be out by summer. "It may still be some rapping, but more of a grungy one."
Gouw admits some frustrations of trying to make his music dreams come true while going through the grind of a full-time job to keep the lights on.
"I'm stuck doing the 9-to-5 when all I want to do is make music. That's what makes me most depressed and having rage come out on a track be it a party song or a suicide awareness song," says Gouw. "We all treat the music like an hourly job, we just have to wait until 5 p.m. to do it."
Sam Hill will be performing on Feb. 17 at the Canadian Polish Hall (745 13 Street North) in Lethbridge as part of a Psychonauts mixed tape release party, with the event starting at 8 p.m. for the all-ages show. Tickets are $15.
$am Hill are booking shows for any type of audience.
"We will play any show with anyone who wants to book us. From the rock and punk scene, to the hip hop scene to family birthday parties," said Wall.
Gouw chuckles when he thinks about performing for birthday parties as he has cleaned up his act to appease more sensitive ears.
"We will clean up the vocals. I got little brothers and sisters who love my stuff," says Gouw. "We were doing an all ages show in Medicine Hat and there was like only 15 people there, but the one person that was front and centre was this five-year-old kid who was grooving the whole time. I was watching my mouth, there was one line that was 'skinny as a bitch' and at that part i'm screaming 'skinny as a twig'," he continues with a sly smile.
For more information about $am Hill or you would like to book them, you can check out the $am Hill Facebook page or Tyler Gouw's personal Facebook. Some of the music can be found on both Facebook pages and also on YouTube.