Federal government needs to step up in Alberta/B.C. trade war; Shields
Posted on February 14, 2018 by Taber Times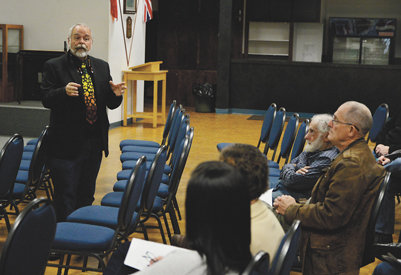 TIMES FILE PHOTO
By Trevor Busch
Taber Times
tbusch@tabertimes.com
With a full-scale inter-provincial trade war now brewing between B.C. and Alberta over the construction of the Trans Mountain pipeline expansion, Bow River MP Martin Shields believes it is imperative that the federal government intervene before further battle lines are drawn.
Tensions around the construction of the controversial $7.4 billion Kinder Morgan expansion reached a white-hot pitch earlier this month when the B.C. government announced plans for more consultations on oil spill readiness and placed a limit on increased diluted bitumen shipments until it is satisfied with response measures.
"The federal government really needs to step in. Neighbours fighting with neighbours, this is nonsense," said Shields. "Trade wars, this just causes animosity between provinces. How many of us spend time in B.C.? It makes no sense to have a trade war between provinces. The economics of fighting with your neighbour just makes no sense to me. The feds need to step in, they approved the thing, it's in the national interest, they've said this a million times in the House, even the prime minister (Justin Trudeau)."
In response to the B.C. government's move, Alberta Premier Rachel Notley fired back with her own retaliatory measures announcing a ban on B.C. wine and ending talks on increased electricity imports, while not ruling out further strikes targeting B.C.'s economy in future.
Notley has said B.C.'s regulations are illegal and unconstitutional.
The B.C. government argues not all questions have been answered as the pipeline expansion would see three times more bitumen moved to the B.C. coast every day and a seven-fold increase in tanker traffic.
"The prime minister is going to have to take some direct action and say, 'It's happening, guys, do it'," said Shields. "You can say that to us in the House, you can say it to the media, but he (Justin Trudeau) needs to tell the leadership in B.C. that it's happening. They made the decision, they approved it, so it's coming."
On Friday, Shields addressed the House of Commons over the dispute, attempting to highlight how vital pipeline access to tidewater is for Alberta and the nation based on the current differential in price for the province's oil on world markets.
"Mr. Speaker, Canada needs the Trans Mountain pipeline expansion now. Oil is being sold at up to 50 per cent discount to the United States because we do not have anywhere else to sell it. The U.S. sells it back to Canada through New Brunswick refineries at the full market price. It is like building a car in Ontario for $30,000 and the only market is the U.S. The U.S. takes it for $15,000 and sells it back to us for $30,000. It is a ridiculous situation."
"By some estimates, selling oil at a discount means the equivalent of one new school a day and one new hospital a week being built in the U.S. instead of Canada," continued Shields. "We simply need to expand our pipeline capacity and the Trans Mountain expansion is a good start. It has passed environmental reviews and regulatory hurdles. Now the B.C. government is putting Canadian jobs and prosperity at risk. The government needs to show leadership and get the Trans Mountain expansion project built now."
The Alberta government estimates that scrapping the pipeline expansion could end up costing the provincial economy $1.5 billion annually.
Albertans contribute around $70 million a year to B.C. wineries.