Barnwell proves gracious hosts for SA Google Summit
Posted on February 14, 2018 by Taber Times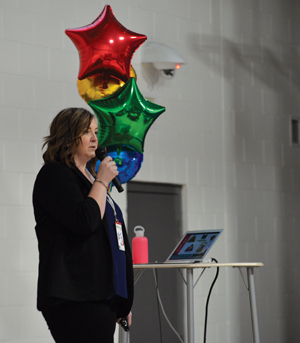 SPEAKER: Emily Fitzpatrick from EdTechTeam Canada gets the Google Summit started during the first day of the event earlier this month at Barnwell School. TIMES PHOTO BY COLE PARKINSON
By Cole Parkinson
Taber Times
cparkinson@tabertimes.com
After hosting last year's Google Summit in Lethbridge, Horizon School Division was happy with the success they had hosting the conference in the Taber area for 2018.
Horizon was given the chance to host the Southern Alberta Google Summit in their own neck of the woods after the organizers saw the number of people show up for the first edition of the conference.
With the change of scenery, there were some new faces as well as some returning attendees from 2017.
"This was our second annual summit, last year our summit was held in Lethbridge. Some of the participants came back for a second year in a row and others participated for the first time so it's nationally promoted as a conference. It was a little bit smaller this time, we had about 100 participants but the general feedback that we had was that it was even better than last year, which was really great. The size was really nice because it was large enough with choice and variety but it was small enough you couldn't just sit there and be a backbencher. You couldn't cruise through and you couldn't help but engage," said Amber Darroch, associate superintendent of learner services for Horizon.
While the event was originally supposed to take place at W.R. Myers High School, the Horizon staff were thrown a curveball as the dates scheduled were the same as the Rebel Classic Basketball Tournament.
"Myers would have been a perfect venue, that's where we meet division wide on our professional learning days when we bring all staff together. We know we can accommodate large groups there, even when we have all of our support staff join as well, so we had confidence in how things run in that facility. But when we booked the dates, I had a fatal flaw in my plan not realizing that it was Rebel Classic weekend. Soon as we realized that, we did a quick pivot and moved to Barnwell. The layout of the school and size of the facility suited this group perfectly so that worked really nice," said Darroch.
On top of the added change of venues there were also a number of differences from last year's conference.
"Other than the size, we had over 300 last year, I would really say that we just had a shorter lead time and it wasn't promoted as much. It was more interactive and hands on. On Saturday morning we had a whole group challenge in the gym together where all the participants went through an activity that we could run around and use in our own classrooms," said Darroch. "We were the guinea pigs for trying something new and because of the size of the group, we were able to do that and have everybody part of a team, part of the competition and part of something new right out of your comfort zone."
Even with the smaller crowd, Darroch didn't notice any drop off of participation from start to end.
"You kind of got the sense that it was a different style of conference, there was a ton of energy. That kept people excited and an indicator was that it went till 4-4:30 p.m. Friday and Saturday and we're still sitting there in the gym as a whole group on a Saturday afternoon. It showed that it hooked people," she added.
The need for this type of event stems from the lack of learning conferences in southern Alberta, as the closest location usually resides in Calgary.
Teachers and support staff in the southern Alberta region are benefitted especially as they lessen the travel they would have to endure if they wanted to attend a Google Summit.
"The other participants came from as far away as Edmonton and Calgary, Cardston, Medicine Hat. These events happen throughout the school year and actually all year round. The next closest ones would be held in Calgary or Saskatoon or Red Deer in the summer. If somebody really wants to attend, those are their choices. The fact that southern Alberta people could stay right here and join in, is perfect."
While the event wrapped up on Feb. 3, planning for the next event is already underway.
The team at Horizon will be afforded more time for 2019's event to ensure they can set everything up the way they want it.
"We are definitely holding it again next year. Last year we said 'hopefully this is just not a first, hopefully it can be annual event.' It kind of went on the back burner but I've already been contacted about scheduling next year," continued Darroch.
Details still need to be hammered out before any real announcements are made but there are still plenty of decisions they need to make.
In the first event Horizon partnered with two school divisions to put on the conference but they went solo for the 2018 version.
They are still figuring out what exactly the benefits are for both possibilities.
"I do love the idea of showcasing Horizon and inviting people to come here rather than default to Lethbridge. I think it's really cool to have people come out and see there is life outside of the city. Last year we partnered with Holy Spirit School Division and Livingstone Range (School Division), so there was three of us together. This year it was just Horizon on our own so that is another thing I have to navigate with my colleagues whether we'll team up again or take turns but I haven't figured that out yet," said Darroch.
Darroch is excited to continue providing the conference to give teachers a place to learn as well provide their students with different types of learning.
"Even though this is called a Google Summit, it really, truly is about teaching and learning. It's not about the technology tool, it's about engaging the student and the classroom giving them a rich experience, innovations and that was evident right as you stepped in the door."