Open house for emergency services building info session
Posted on February 7, 2018 by Taber Times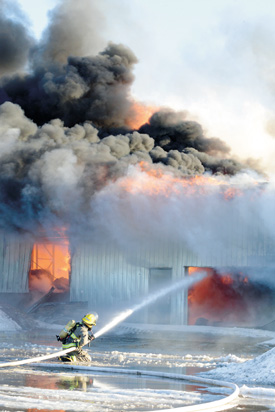 TIMES FILE PHOTO
By Trevor Busch
Taber Times
tbusch@tabertimes.com
Citizens are being invited to voice their opinion about the future of the town's fire hall infrastructure at an Emergency Services Building Open House on Tuesday, Feb. 13.
The open house is scheduled for 7 p.m. at the Taber Community Centre Auditorium (4712 50th Street). The evening will feature a presentation on the background work completed to date, and council and administration will be available following the presentation for questions and answers and to receive feedback from residents.
"I believe they're planning to do the historical what was involved in the process, information gathered in point form, so everybody can understand and hopefully all of us can be on the same page," said Mayor Andrew Prokop, who indicated the presentation will be delivered by CAO Cory Armfelt, fire chief Steve Munshaw, and planning director Andrew Malcolm. "It's been on our minds for quite some time to make sure that this happens. We'll discuss the fire hall, emergency services details involved with the central location, the concerns, and what's best for the whole community basically."
Moving the fire hall to a more centralized location has been highlighted as being able to reduce response times by approximately five minutes, increasing the safety of residents and businesses. The Alberta Building Code in 2006 addressed high intensity residential fires (HIRF), identifying a need for fire departments to respond in under 10 minutes more than 90 per cent of the time.
Due to this decision, towns with fire departments unable to achieve this threshold within their response areas would require new buildings to have sprinkler systems installed, increased setbacks or changes to windows and non-vented soffits. As a result, developers in the community have been required to build homes with very specific materials and setbacks, raising the cost for housing.
The town was recently left approximately $2.4 million from the estate of a local benefactor after he passed away in October 2016. Following in camera discussion at their July 17, 2017, regular meeting, council voted unanimously to set aside $1.5 million dollars of the donation for a new fire hall building. Many citizens have questioned the lack of accountability and transparency involved with a decision to earmark millions in public funds.
Prokop believes much of the public hasn't had the proper information to make up their minds about the need for a relocation of the fire hall.
"I guess more than anything it's awareness. I think there's a lot of misinformation out there. I've been asked questions the last several months, I've tried to put these individuals on the right track. They're not understanding, they're not aware of all the information involved there. I did give the HIRF information package to some individuals that wanted to read that. There's a lot of information involved with that. We encourage any questions."
To replace the current fire station with all the amenities of the current hall, some early estimates ran as high as $5-$6 million, but in the HIRF committee's report, it was stated that through review of information compiled by fire chief Steve Munshaw, the total cost of relocating and constructing a new fire hall is now estimated to not exceed $2.5 million, although there was no information included regarding how this figure was reached by administration or the committee.
One of the town's proposed sites is located northwest of the curling rink, while the other location being recommended by town administration is the southeast corner of town-owned property near Dr. Hamman and St. Pat's schools. Administration recommended the two "highest ranked" locations to council during the in camera portion of their Aug. 21 regular meeting.
A future public engagement process regarding the fire hall decision was also ordered by council as part of the same resolution.
The information gathered from the public at the open house should help guide council in their final decision.
"I think it's going to help quite a lot, I hope we get a really good turnout," said Prokop. "In the general discussions I've had out there with people there's a lot of interest, and we expect to have a pretty good turnout. We know there's different concerns out there for a variety of reasons, and we want to hear about it."
A number of groups and organizations have come out in direct opposition to these recommended sites since they were announced in mid-2017.
Murray Rochelle, chairman of the Signature Point Home Ownership Association, headed a delegation to town council's Sept. 25, 2017, regular meeting where concerns were outlined. Rochelle read from a prepared statement on behalf of the petition signatories, detailing their opposition due to levels of foot traffic in the area and reductions in parking space for various town events, among other issues. Signature Point is directly adjacent to the town's proposed site northwest of the curling rink.
Todd Ginther, representing a delegation of concerned citizens at town council's Nov. 14, 2017, regular meeting, presented an ongoing petition that had collected 243 signatures from area residents opposed to the location near the two schools. That proposed site had also seen opposition from Horizon School Division's board of trustees, who issued a stern rebuke to the idea at their board meeting in August.
The town's fire hall decision was also a heated topic during the recent municipal election campaign, and dominated debate at the town election forum at the Heritage Inn on Oct. 12. The Taber Times has also received and published multiple letters to the editor — both for and against — regarding the fire hall decision.
In an Aug. 2, 2017, interview with the Times, Prokop had reported some consideration had been given by council over whether the town should have consulted the public on what they felt would have been the best use of the donated funds, but this was ultimately dropped.
"I believe that was discussed briefly at one point, back before it was ever finalized, but in the end, we believed we could make a final decision that was good for the entire community."
Allegations that council's decision was made to benefit a handful of developers and home builders in the community at taxpayer expense are unfounded, according to Prokop.
"That wouldn't be a fair statement at all, in my mind," he told the Times on Aug. 2.
Depending on the response received at the open house, the town may consider holding another open house or information sessions in the future. That being said, Prokop isn't sure when the public can expect a final decision from council on the fire hall relocation.
"That's really difficult to say. I would expect in all likelihood after that particular public forum, it would be on the agenda for the next town council meeting (Feb. 26). So there's a good chance it could come up there, and definitely a decision could be possible."
In the lead-up to the open house, town council held a special meeting on Monday for closed session discussion of the Emergency Services Building. The meeting agenda cited FOIPP Act Sec. 24(1) as justification for conducting the meeting behind closed doors "to prevent disclosure of advice from officials, that could reasonably be expected to reveal advice or analysis developed by a public body."
"I haven't seen the exact details," said Prokop when questioned about the purpose of the meeting. "I think it's just open-ended right now to make sure that basically we're all on the same page."
The MGA sets out clear requirements for municipal councils to conduct their business openly, except in very limited and specific circumstances. Under guidelines laid down by Alberta Municipal Affairs, as an elected body, municipal councils should avoid conducting business in camera, that includes discussion of difficult topics such as budget deliberations, capital expenditures, tax recoveries, salary ranges or hiring of additional municipal staff, bylaw amendments, subdivision proposals, and "any contentious issues such as sensitive local issues."
No statements were received from representatives of administration on the upcoming open house following a request for comment.