TEA denied flag request by town council
Posted on January 31, 2018 by Taber Times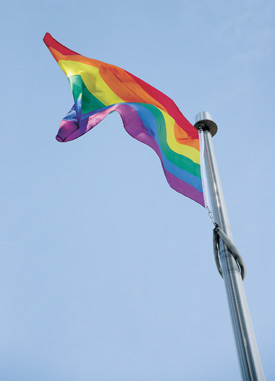 TIMES FILE PHOTO
By Trevor Busch
Taber Times
tbusch@tabertimes.com
Town council has moved to deny the Taber Equality Alliance's request to fly the Pride flag for their 2018 celebrations, and has ordered the Confederation Park flag pole removed as the designated Community Flag Pole.
At council's Nov. 27 regular meeting, the Taber Equality Alliance (TEA) had attended as a delegation to request that the Pride flag be flown on the Community Flag Pole for the month of June as part of their 2nd annual Pride event on June 2.
Previous council passed Flag Protocol Policy C-9 in late June 2017 to address the desire for community groups and organizations to celebrate their events in the community with their own flags.
The policy and its respective procedure were built on a number of existing flag policies from across Canada, and encompasses the flag protocols from the federal and provincial governments.
Under the policy, requests for guest flags to be flown on the Community Flag Pole are subject to the sole discretion of council for approval.
"I've thought about this, and looked at this from a lot of different angles, and I believe that the four flag poles out front — and that's covered in our protocol — fly a Town of Taber flag, the M.D. of Taber flag, the province of Alberta, and the great country of Canada that we live in," said Coun. Louie Tams at the Jan. 22 regular meeting. "The flag pole that we're talking about is the one in Confederation Park, and I do believe that park was given to us, donated, built by volunteers, and it should be flying a Canadian flag. And for that reason — and only that reason — I'm prepared to make a motion that council denies the Taber Equality Alliance request to fly the Pride flag on the Community Flag Pole."
The town moved to draft Flag Protocol Policy C-9 after controversy erupted in 2017 when council denied a request from the Taber Equality Alliance to fly a Pride flag on one of the town's main flagpoles located in front of the Administration Building in June.
A follow up motion to relocate the Pride flag to the town's pole in Confederation Park was only passed by a narrow 4-3 margin.
The group's goals for Pride 2018 are to draw more business to town, provide a safe and secure environment, and to plan for a music festival and parade.
The TEA's inaugural celebrations were marred by hate in June 2017 with the theft and defacement of their original flag, followed days later by the burning of a second flag.
"I'm just wondering whether Councillor Tams would include Option 5 within that concept of that particular motion, which talks about removing that particular flag pole as the Community Flag Pole," said Coun. Garth Bekkering.
According to administration, "following the double vandalism of the Pride flag in 2017, considerations as to the safety and security of property and people must be taken into consideration."
"I was going to speak to it at the end, Councillor Bekkering, and I do think that it should be dealt with as a separate motion, and I do feel that we should include it," said Tams. "But I think the Taber Equality Alliance deserves to have an answer today, whereas to look at the Flag Protocol C-9 to remove that pole, I think council needs to have some further discussions on that issue. As much as I agree with you, I think it's two separate entities, and I would like to first give the Taber Equality Alliance an answer today, and then to deal with our flag protocol regarding that flag pole. Because I think there's further discussion that has to be had about that flag protocol."
Tams' motion was passed by a 5-1 margin, with only Coun. Carly Firth in opposition. Coun. Joe Strojwas was absent from the meeting.
The Taber Equality Alliance Society formed in 2014 from a need to increase safety and support the LGBTQ community, with a goal to create a safe space in the community for sexual and gender minorities and their allies.
The Alliance is focused on fostering a more welcoming and inclusive community through engagement, partnerships, social groups and advocacy.
The Alliance incorporated as a not-for-profit society in 2016, and is a member of the Taber and District Chamber of Commerce.
Referencing the events that occurred in June 2017 involving vandalism of the group's Pride flags, on Nov. 27 delegation member Sean Todd believed this was clear evidence there is an undercurrent of malice toward LGBTQ individuals in some circles in the community.
"Events show that there is hate in the community and that there is still a lot of work to be done. No group in the community of Taber, whether religious, cultural, or for any other reason, should be made to feel this way. I want to be part of change for equality and a safe environment, not just for the LGBTQ community, but for everyone," said Todd.
In a follow up motion, council voted unanimously to direct administration to amend Flag Protocol Policy C-9 to remove the Confederation Park flag pole as the designated Community Flag Pole, and to bring these amendments back for approval during the second council meeting in February.