Taber Police Service takes plunge for Special Olympics fundraising
Posted on January 31, 2018 by Taber Times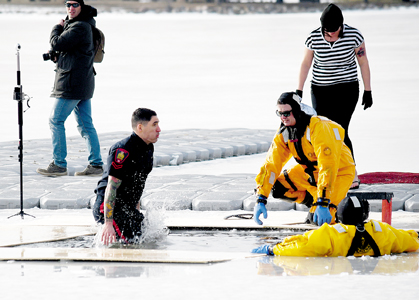 TIMES FILE PHOTO
By J.W. Schnarr
Southern Alberta Newspapers – Lethbridge
More than 90 people intentionally jumped into the frigid waters of Henderson Lake Park on Saturday in support of Special Olympics.
The Polar Plunge is the biggest single fundraiser of the year for Special Olympics Alberta. It is organized by the Law Enforcement Torch Run, the largest supporter of Special Olympics.
"We use the funds to reduce the costs for athletes," SOA- Lethbridge Chair Virene French said.
Some of those costs include transportation, training, uniforms, and facility rentals.
"If we didn't have the LETR supporting us, it would be cost-prohibitive for some of our athletes," French said.
Mathieu Champagne, an executive officer with the Taber Police Service and Chair for the Lethbridge Area LETR, said the Polar Plunge will directly benefit athletes in southern Alberta.
"The funds are kept in this community," he said.
Last year, Polar Plunges across Alberta raised more than $167,000 with more than 650 people plunging.
This year's participating law enforcement agencies include Taber Police Service, Lethbridge Police Service, RCMP, Blood Tribe Police Service, Alberta Corrections, Alberta Sheriffs, and Canadian Armed Forces.
Rachel Clark is a Special Olympics athlete and multiple medal winner in the 5-pin bowling event. She said the importance of "Special O" and the Polar Plunge can not be overstated.
"Special Olympics is very important," she said. "We appreciate the officers of the law coming out to support us."
Nichole Covey is a first-time Plunger and instructor at Lethbridge College who was approached by a student to take part. She said with her background in law enforcement and current work supporting people with disabilities, being part of the Polar Plunge was an easy choice.
"It's a combination of all the things that are important in my life right now," she said. "Special Olympics is an amazing opportunity for everybody."
Local radio personality Sam Borsato raised $540 for the event, and as a first-time plunger, she wasn't sure what to expect.
"It was a lot colder than I thought it would be," she said. "You come out, and it's so cold you forget how to talk."
She said she was nervous in the moments leading up to her jump, when she was standing on the ice looking down into frigid Henderson Lake.
"It's terrifying, but it's great," she said. "I'm thrilled to be here. I raised some money for Special Olympics and that's what it's all about."
Organizers were hoping to reach $30,000 this year, but final numbers were not available by press time.
"It means the world to us and the athletes," said Champagne. "This is who it benefits. And the idea of sport for people with intellectual disabilities, it doesn't only affect their day-to-day life, but it actually extends their life spans."
Lethbridge Fire was on scene, and members of the dive team were in the water to help Plungers safely make their way out of the water.
"This is our seventh year doing the Polar Plunge, and we've never had anybody hurt or injured," said Champagne.
It should also be noted the event is zero-cost, meaning every part of it was donated by groups and businesses in the community.
"It's all free," he said. "Everything has been donated by our sponsors. That means a lot to us, because it's more money we can donate to Special Olympics."