Chamber hands out awards
Posted on January 24, 2018 by Taber Times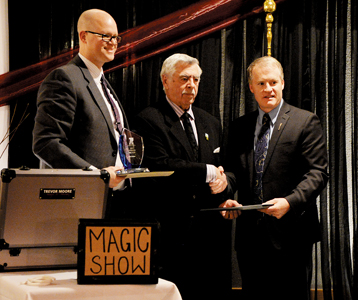 CHAMBER CHAMPION: Outstanding Citizen of the Year for 2017, Joe Orban, receives his award during the Taber and District Chamber of Commerce Annual Awards and Dinner hosted at the Heritage Inn on Jan. 19. TIMES PHOTO BY TREVOR BUSCH
By Trevor Busch
Taber Times
tbusch@tabertimes.com
Four honourees received the praise of the community on Friday evening at the Taber and District Chamber of Commerce's Annual Dinner and Awards for their strong dedication to the economic success of the local region.
Accepting the Customer Service Excellence Award for 2017 for Com and Eat Mobile Concession and Catering, co-proprietor Chris Nguyen praised the chamber's efforts in support of business.
"On behalf of my wife and I, we'd just like to really express our gratitude and appreciation to the chamber of commerce for their diligence in supporting businesses, and of course to our community. When we first came here in 2010, we were very excited to become a part of Taber, and with our business venture now being very beneficial and fortunate for us because of the support of the community, we're so grateful to continue to be a part of this community."
With a focus on youth sports and their many other activities throughout the community, the Taber Football Association was selected for the Spirit of Taber Award for 2017.
"I'd like to give thanks to the chamber for recognizing us. It's pretty humbling to even get this award," said association president Jason Jensen."I have to give recognition out to our board of directors, this is a really hard working group. All of us care a lot about this town, and we all care about the football program here. For me, football is one of the only sports where there's a spot for every kid. I know myself growing up as a kid, I needed football. When I found it, it made a difference in my life. So the fact that we can be recognized in the community for what we're doing is big."
A very deserving candidate for Outstanding Citizen of the Year for 2017, Joe Orban detailed much of his personal and family history as well as the many service clubs, sports organizations and other clubs and activities he has involved himself in over the years, while singling out the chamber for special praise.
"Humble is the word. Over the years, I did spearhead a lot of things, but how many thousands of volunteers have helped me? Thousands. I would like to thank the person that nominated me, I know who it is. I'd like to thank the chamber of commerce for all that they do for this town. When I say this town, it takes in the M.D. of Taber, too. It is so important."
Taber's 2017 Small Business of the Year Award went to the Taber Bowling Centre, with owner Harry Prummel highlighting the achievements of his fellow recipients before pointing to his staff as the driving force behind the success of the business.
"We'd like to thank those responsible for nominating the centre. It's very humbling to accept this award. We do have our staff here tonight. These ladies have been the face of the bowling centre pretty much since we bought it, they're always there, they're never sick, they always come into work, so I personally want to thank you guys for always being there, you are the face of the centre."