Taber mourns loss of former mayor
Posted on January 17, 2018 by Taber Times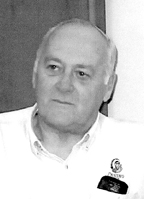 By Trevor Busch
Taber Times
tbusch@tabertimes.com
Taber lost a respected member of the municipal community in early January with the passing of former mayor Dave Duggan, who helmed the town from 2001 to 2004.
"He was very approachable, and a very committed individual when he was here," said Mayor Andrew Prokop. "I think he quite enjoyed that, and seemed to be very well received by the public during that time. He was one of those kind of guys that would never pass you up when he saw you on the street, he was just that kind of personality. Very outgoing and likeable personality. We were very sad to hear that, and we pass on condolences to his family as well."
Duggan, who was originally from Windsor, Ont., was a justice of the peace in town for a few years and served on the Taber Municipal Police Commission for two years until he ran for mayor in 2001 and won the position. He was also a designated marriage commissioner for Alberta for more than 10 years and completed hundreds of weddings.
"I knew Mr. Duggan for quite a number of years, he was actually a justice of the peace for us with the police service for quite a number of years as well, so kind of got to know him through that circle before he got into the mayoral role here," said Prokop. "I think he did very well in that role, and was always a public relations oriented individual."
For roughly five years after completing high school in Ontario, he worked as a police officer and medic (ambulance driver) there before he and his wife Margaret moved to Calgary, where they resided for 25 years. In Calgary, he was a paramedic and firefighter with the Calgary Fire Department. In 1989, he retired and they moved to Taber.
In the 2001 municipal election, Duggan bested incumbent Mayor Harley Phillips, taking in 1,325 votes to Phillips' 758. Duggan's share of the vote amounted to almost 64 per cent. In a post-election interview with the Times, Duggan had cited a desire for change as an explanation for the decisions of the voters.
Duggan would go on to be defeated in the 2004 and 2007 municipal election campaigns by former Mayor Ray Bryant. In a later interview following his term as mayor, Duggan had highlighted some of his main accomplishments as being part of early discussions for a skateboard park, the new Taber Public Library and the establishment of Taber's Wal-Mart.
The 2007 campaign was Duggan's last attempt at municipal politics.
"I am not disappointed. I think it was a good race and a good campaign," Duggan told the Times following his defeat in 2007. "The people have spoken and that is what counts. The people are what counts."
Still an active public figure in his later years, the former mayor was captured by a Times reporter in 2011 speaking out at a public hearing against a proposed anti-idling bylaw.
"I thought when we elected you gentlemen not too long ago, we elected people with common sense, and this doesn't make any sense."
Last week, the flags at the Administration Building were held at half-mast in honour of the former mayor, who passed away on January 5. The flags were half-masted until sunset on Saturday, Jan. 13 as a "sign of the town's respect and admiration for his service and dedication to the citizens of Taber."
"We made sure that happened, there's a policy written for that, so we definitely made sure that was followed through on," said Prokop. "I'm glad to see we could honour him in that regard."