New Year's Baby honours a photo finish between two families
Posted on January 17, 2018 by Taber Times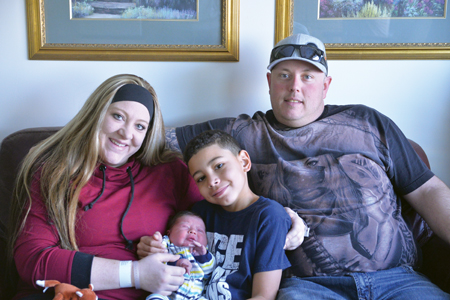 FAMILY UNIT: Kelsey Schalk and Kevin MacMurchy pose with little Lenix as proud big brother Kellon looks on. TIMES PHOTO BY JARED WILLIAMS
Editor's Note: In the Jan. 17 print edition of The Taber Times, Kelsey Schalk's surname was incorrectly spelled as "Schark." The Times apologizes for any confusion.
By Jared Williams
Taber Times
The first baby born in Taber for 2018 has been said to be lucky for life, that's good news for Kelsey Schalk and Kevin MacMurchy who just received their new baby boy to add to their growing family as Taber's New Year's Baby.
Lenix Leo MacMurchy is the name given to the newborn boy with a life of luck to look forward to. Luck indeed did have some play in the birth of Lenix, as he was scheduled to be born two days later on Jan. 12, which would of cost him the title of New Year's Baby.
Leading up to the birth of Lenix on Jan. 10 at 8:41 a.m, there was a bit of unease if he would even be the first baby to be born, as for unforeseen circumstances, another mother was getting a C-section at the same time.
The New Year's baby race was on to see which baby was going to be born first.
A battle of the sexes, Lenix was racing against an unborn girl to see who would win the prize of being the first baby of the New Year. Just beating out the the other baby by a mere 10 minutes, Lenix proved to be the victorious baby of the New Year, of course with most of the credit going to the mother for all the hard work. Lenix was born at a healthy nine pounds and six ounces, while being just short of 19 inches.
The second boy for the family, little Lenix is joined by older brother, seven-year old Kellon Schalk who is taking on full responsibility of being a great older brother.
"It's exciting, I'm surprised that by the 10th they didn't have a New Year's Baby yet, I guess in Lethbridge they get so many babies there, so in Taber maybe your chances are better. I was happy he wasn't in December, that's for sure," said Schalk when asked how she felt about having the first baby of the New Year.
The family has lived in Taber for awhile, especially father Kevin who has spent his whole life in Taber.
"I've known Taber my whole life because my mom's from here, but I didn't move here until 2010, then I've lived here since then," said Schalk.
Kelsey worked for six years at Linden View and has since switched to part-time to focus on continuing her education with the hope to become a teacher some time in the future. Along with Kevin who works on the oil rigs, the family has a bright future ahead of them.