Service with a smile for Com and Eat
Posted on January 10, 2018 by Taber Times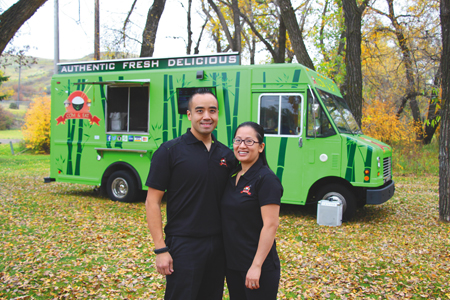 MEALS ON WHEELS: Doreen and Chris Nguyen have capitalized on the emerging food truck trend in the Taber area, parleying their dedication to customer service into a chamber recognition. TIMES PHOTO SUBMITTED
By Trevor Busch
Taber Times
tbusch@tabertimes.com
Still a relative newcomer on the food scene, that hasn't stopped Com and Eat Mobile Concession and Catering from securing a loyal following helping proprietors Doreen and Chris Nguyen secure the Taber and District Chamber of Commerce's Customer Service Excellence Award for 2017.
"We're very honoured, it's an incredible recognition from the Taber chamber of commerce and the community," said Chris Nguyen. "We're so happy and thrilled to have been even considered."
With a history in the food industry, the Nguyen family used to have a pub in Lethbridge in the Orient Express Grill and Tavern. But with a burgeoning family at the time, the Nguyens stepped back from their full-restaurant duties. Now entering their second season with the food truck, Nguyen is pleased to be back in the culinary game.
"It's always been a passion for us. We did own and operate a pub back in 2007. It's something that we always wanted to get back into, it just took a while."
The Taber and District Chamber of Commerce Annual Dinner and Awards Night is on Jan. 19 at the Heritage Inn. Honoured will be Spirit of Taber, Small Business of the Year, Customer Service Excellence and Citizen of the Year.
Reviews for Com and Eat on its Facebook page, along with Lethbridge Eats, have embraced their food truck. The name "Com and Eat" is not a typo, but rather a clever play on words with "com" being Vietnamese for rice.
"Our focus is to provide great customer service and a quality product. We're just doing our best to make sure that people like what we offer, and to be out there in the community, and obviously to be successful at it. For us to get that recognition, it's truly amazing," said Nguyen.
That quality food features a concise menu with variety to satisfy many different taste buds. Beverages for Com and Eat are not just your common North American pops, but also Vietnamese Iced Coffee and bubble tea.
"We offer authentic, fresh and delicious Vietnamese cuisine. We want to make a tasty, quality product at an affordable price for our customers."
Com and Eat focuses their culinary skills in the Taber area where the food truck can usually be found in various locations in the downtown area. Outstanding customer service is a cornerstone of the Nguyen's success.
"It's absolutely fundamental to any successful business. You can have an excellent product, but if you can't deliver it and you can't make an impact and an impression on your client base, they won't come back. So for us to be able to offer a nice product — which we're very confident about — and for us to deliver it in a model that has garnered the attention that it has — mission accomplished."
Com and Eat is on social media if people want to know the food truck's schedule and where they will be. Com and Eat is on Facebook, Instagram and Twitter.
"I think we definitely connect with our client base on a personal level. We have a really strong social media campaign. Every time we're out and about, every time we operate, we make sure our information is out there to connect, and to give feedback and response to our customer's and clients' needs, issues and concerns," said Nguyen.
Nguyen couldn't say more about the impressive support the family's business has received from citizens and organizations in the Taber area.
"The community of Taber — especially because of the Taber chamber of commerce — is incredibly supportive of local and small businesses. So for that we are truly grateful. We've never had that kind of support before from a community-based organization to promote business, growth and development within the community. Secondly, the community itself is crazy supportive of us and small business. We see so many people that want to promote local, and shop local, so that we can create that growth and development within our community. That's why we chose to go with the format we did and to launch our business here, and to be based in Taber, in southern Alberta."
Although not divulging any specific details at the moment, Nguyen did signal that Taberites should expect to see more from the family on the culinary front in future.
"We've got some business developments on the go at the moment that might really establish ourselves in southern Alberta, especially in Taber, to broaden our business reach."
Not neglecting the customers that make the business a success, Nguyen thanked citizens for their support.
"We truly appreciate the recognition from our incredible fans from this town and the Taber chamber of commerce, and organizations like The Taber Times that always focus on local business."
For more information and up-to-date news on Com and Eat operations, please follow them on social media at: Facebook: http://www.facebook. com/CAE.Mobile Instagram: CAE.Mobile Twitter: @CAEMobile