Orban earns Citizen of the Year accolade
Posted on January 10, 2018 by Taber Times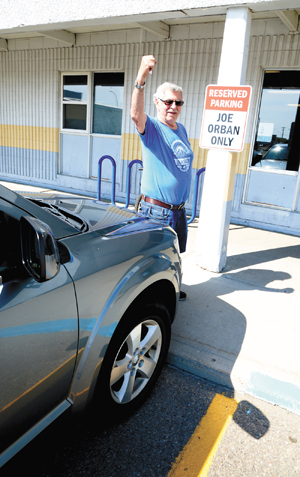 FREE PARKING: Joe Orban's influence on hockey in Taber over the years has been so vast, town council passed a motion allowing for a prime parking space at the Taber Arena be reserved just for him. TIMES FILE PHOTO
By Cole Parkinson
Taber Times
cparkinson@tabertimes.com
Taber's very own Mr. Hockey has been recognized as the 2017 Citizen of the Year by the Taber and District Chamber of Commerce.
Joe Orban, a staple at the Taber Ice Arena for the past few decades, has been given the award for the 2017 edition of the chamber's Annual Awards and Dinner AGM.
Orban says he couldn't be more excited to be recognized as the Citizen of the Year.
"I'm pretty honoured and very happy. Humble is the word, there sure are a lot of good people in this town deserving and I'm pretty honoured to be the recipient this year," said Orban.
Orban was born in Saskatchewan in 1938 before finally landing in Taber in 1949 and his community involvement has been a steady presence in the Taber community.
One of the many contributions Orban is known for throughout Taber is his many coaching gigs throughout the years including multiple divisions of hockey.
Orban was even recognized for his contribution towards Taber Minor Hockey with a permanent parking stall outside of the Taber Ice Arena.
"I first started coaching my first child when he was six years old, that was 1964. I probably continued on coaching for 25 years and I ended with the initiation for the last two years and along the way I coached Mighty Mite, Tiny Mite, Peewee, Bantam, Midget and Junior B. I co owned it with some people but we eventually sold it, they were called the Taber Oil Kings, they were sold to Coaldale," said Orban. "I played a little bit of hockey when I was a peewee but then I mainly got into basketball. My friends and children's friends were all into hockey, so I got into hockey. That's where I stayed but my coaching went to basketball, male and ladies, I coached baseball, I coached a little bit of soccer. As you can tell I like sports."
On top of his coaching duties he has been apart of multiple clubs and community groups throughout the years.
He joined the air cadets in 1952 until 1956, he was a president in the Junior Chamber of Commerce from 1969-1970 and he joined the Taber Lions Club in 1968, which he is still active in.
"When I joined the Lions Club I was just a young guy and so many of the people that did so much for this town were my mentors. I said 'wow some of these guys are old,' but now I'm the oldest guy in the club. We don't have as big of a membership but we still have 15 or 16 strong," said Orban.
Reflecting back on all of the things he has accomplished so far, one of the things Orban is most proud of is a project he took on himself.
"I think the parks that we did with the Lions Club and I took it upon myself. I went to a town meeting and had it approved to build a ball park right behind Clearview Lodge. It used to be a corn field and one time. I was coaching a senior ball team and it was approved and then it was cancelled. I went back another time and it was approved again," said Orban, who also stated that the construction of the field was all done without the help of the town. "It didn't cost the town a penny."
Other clubs he has been involved with range from Taber Minor Hockey as director, zone chair man for the Junior Chamber of Commerce, Knights of Columbus member, an Elks club member and he ran the Taber Golf Club for 13 years.
No stranger to community work, Orban says the work he puts in isn't for himself but rather the betterment of Taber and the people living in the area.
"It sounds like I did a lot but you know what, you can do so much if you are surrounded by amazing people. I always say 'surrounded yourself with eagles, not seagulls' and to do anything you challenge yourself. I don't do it for Joe Orban, I do it for the community, I do it for somebody else. The benefit I get out of it is I feel pretty darn good about what I do," he said. "I think overall I'm a pretty nice guy but I'm a human being. I wake up somedays cranky and my wife reminds me. I go out and try to do something good for somebody every day, that's the way it is. As you can tell I am pro Taber, I love this town. I appreciate what happens in this town and people do a lot of good things for me too."
The sports bug runs deep in the Orban family as his four sons have went on to play past the minor hockey cutoff.
Now his grand kids continue to carry the Orban sports torch across the globe as many of them have seen plenty of successes in different sports.
Blake Orban won the Memorial Cup back in 2014 and continues to play hockey for the University of Lethbridge Pronghorns.
Sarah Orban on the other hand is training for the Olympic cycling team and she took home first place during the RBC Training Ground in Calgary.
One of Orban's biggest passions other than his family still lies within the Taber Arena.
While he has ceased coaching, he still gets joy taking in as many games as he can in between sharpening skates.
"I dearly love my customers, the parents, the kids and I can relate. Maybe it's the break out of my house away from my wife too," said Orban with a smile. "When I'm not sharpening skates guess what I'm doing? I'm watching the hockey game. I tell my wife I'll be home at eight and she'll phone me at eight and say 'what are you doing? Are you watching hockey?' Life is good."
One of the more recent endeavours Orban has overtaken is being on the resident council for Clearview Lodge.
"In 2009 my mother moved into Clearview Lodge and they needed somebody to get on the resident council. I became president of the resident council in 2009 and as of this day I am still president. It's a very enjoyable job, it means so much to me. My mom passed away in 2011 but I stayed on and I go there on a regular basis," said Orban. "It's really one of the more enjoyable jobs I have today. It's an important part of my life."