New RCMP officer fitting in at local detachment
Posted on January 3, 2018 by Taber Times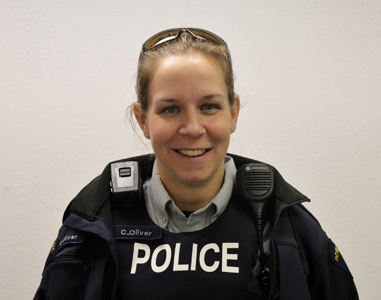 ON PATROL: Cst. Corrine Oliver joins the Taber/Vauxhall RCMP Detachment after transferring over from the Brooks detachment. TIMES PHOTO BY COLE PARKINSON
By Cole Parkinson
Taber Times
cparkinson@tabertimes.com
A new member of the Taber/Vauxhall RCMP detachment is hoping to utilize her skills to maximize the potential of the local squad.
Cst. Corinne Oliver is a few months into her new assignment, this will be the third stop of her RCMP career.
"I've been involved with the RCMP for about 12 to 13 years now. I started with Victim services and then did different jobs in the organization, both in Red Deer and then in Brooks as well. I worked in Crime Prevention and Reduction so I did different community and RCMP projects," said Oliver.
One thing she hopes to bring to the local detachment is media availability and the hopes in allowing the media to highlight some of the projects the RCMP are working on.
"I've done media stuff before in the position I held before where we did stories on what we were doing and different crime prevention and reduction strategies. So I wanted to do a little bit more for the detachment with you guys (The Times) and let you know what's happening in the area. Not only what's happening crime wise but also if we have something positive that is going on too," said Oliver.
Corinne got her RCMP start in Red Deer before she eventually got shifted to Brooks in part of the RCMP's rotating assignments across the country.
Oliver grew up in Sundre, Alberta which has a small population so she says the shift to Taber has been relatively smooth since the two are fairly similar.
"It has been just over four months now and I like it. It's different but I like a small town, I grew up in a small town, I'm used to the small town feel and everybody waves at you," said Oliver.
Like many who take up the job of law enforcement, Oliver had always had aspirations of joining the police force.
When the opportunity arose, she jumped at the chance of joining the RCMP.
"I always wanted to be a police officer, the timing was just right so I got into the RCMP and got posted to Taber," said Oliver. "I have a degree in psychology and got asked to join Victim Services so I joined up with them and I liked what the police did."
Oliver isn't the only new face in the local RCMP building as Cst. James Korotyszun has also joined in the past several weeks.
Despite the new members joining at a busy time in the schedule, Oliver says she and Korotyszun are fitting in extremely well.
"Our detachment is working pretty good, so there is myself and another RCMP officer that is brand new, but we're learning the ropes pretty quick. It's been good, I've been learning a lot," said Oliver.
With two new recruits joining in a short period of time, she says it has put her at ease knowing she wouldn't be the only new person working at the detachment.
"It helps, it kind of takes the pressure off of you of being new. It's interesting to see how much you do learn in a very short amount of time," added Oliver.
While Oliver just arrived in Taber a few months ago, she knows she won't be here for the rest of her career especially with how quickly the RCMP shifts their officers around.
With the future uncertain, she hopes to be in Taber for a few years before looking for different positions within the RCMP umbrella.
"Hopefully stay here for a few years and then I don't know. There is a lot of different opportunities in the RCMP so I'll see where it takes me."