Taber Bowling Centre rolls a strike with award
Posted on December 13, 2017 by Taber Times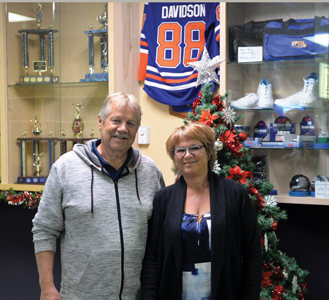 SMILE FOR THE CAMERA: Harry and Arlene Prummel are excited to be nominated for the "Business of the Year" award for the first time ever for the Taber Bowling Centre after owning multiple businesses in the Town of Taber. TIMES PHOTO BY COLE PARKINSON
By Cole Parkinson
Taber Times
cparkinson@tabertimes.com
A local favourite has won for this year's Taber & District Chamber of Commerce Business of the Year award.
The Taber Bowling Centre got the honour after being nominated by a member of the community to be up for the 2017 award.
"You would be lying if you said after the years go by and you've never been nominated, you go what the hell. When Rick (Popadynetz, president of the Chamber of Commerce) calls me he goes 'I've got great news!' I go 'really? I didn't buy lottery tickets' so I thought really? That's kind of neat! So you have to switch gears a bit, the staff really runs this place as far as the day to day stuff but it's pretty neat. You look at the 250-300 businesses that are in this town and you know that's only 10 per cent, 30 businesses over 30 years that have gotten nominated, that's a pretty small number," said Harry Prummel, who has owned the Taber Bowling Centre along with his wife Arlene since 2004.
This year the staff at the bowling alley introduced a new program to get kids bowling while also lifting the financial burden that sports bring for the parents by introducing free bowling and free registration for the children's bowling league.
While there is obvious financial loss for the business, Prummel says that was never a concern for anyone working at the bowling centre.
"This year we came up with this free bowling and registration for kids. Where that comes from is that's just who we are, we just fly by the seat of our pants. We talked about it a bit and we just wanted to give back. We've been here for so long and it's been so good here as far as having a good life," said Prummel.
The promotion was put on the centre's Facebook page to promote the free registration and the response they got was staggering.
"At 9 o'clock we put it out and at 10:30 she (Carrie Bolen-Vatro, manager at the Taber Bowling Centre) sends me a text, we can have 48 kids on the lanes at all times, she said we have 48 kids signed up already but it gets worse, I have another 20 that want to bowl. We had 96 kids signed up by dinner time, it was like holy crap so we changed it from one night to two nights," said Prummel. "We changed it from Tuesday/Thursday to Monday/Tuesday so we lost a few kids because of scheduling conflicts, which was fine, but we still had 85 kids bowl."
The Prummels have been a fixture in Taber since the late 1970s/early 1980s and have owned and continue to own multiple businesses in Taber.
While the bowling centre is the business that has been nominated, it surprised them a bit because they see it as their fun job.
"For us, because we have the flooring store and because we have multiple units that we rent out, we're allowed to do this. We don't take an income out, it runs on its own. We got nominated for the bowling alley but it's the most fun as far as it goes, you come to work and it's your own man cave. We just enjoy it but it seems like yesterday when we started," said Prummel.
Neither of the Prummels ever imagined that they would one day be owners of a bowling alley, but when the opportunity arose in 2004, Harry jumped on it.
"The beauty of life is you just never know what tomorrow is going to bring you. Arlene used to bowl and I bowled a bit but it's not my number one sport. I play old timers hockey and I was sitting next to one of the realtors in town but the price tag was way to high for what it was worth. So I said to him 'has that bowling alley come down in price where it's reasonable?' He said it had, so we had our store downtown still so I said 'if he wants to take my store and trade I'll use that as a down payment and take over the bowling alley.' The next day the wheels were in motion," said Prummel.
"It was costly, this isn't a cheap property and you're looking at today a million dollar property. So it's expensive but because we had the carpet store and renting out properties we could afford to build this up. We put all of the automatic scoring systems in and that was $75,000 but you had to put it in."
The biggest worry they had when they took over was the condition of facilities located within the building as most of it needed to be replaced.
Another issue was they didn't have the necessary knowledge to repair and keep the bowling lanes maintained to where they needed to be.
"Nothing was ever done, it was in really bad shape. We do the lanes every year, we sand them and then finish them but they hadn't been done for 10 years. There are computer boards in the back and they are $500 a pop, one year we replaced four. That could have just been coincidence. It was tough, we worked it ourselves and we would sit here on Saturday afternoons and evenings. You'd drag your arse home and say 'what the heck did I buy this for' but it slowly came around," said Prummel.
He also added that Alex Michalenko from Holiday Bowl in Lethbridge was gracious in showing them the ropes in running a bowling alley.
With Taber being a relatively small town, not everyone knows about the bowling alley especially since it isn't located right downtown.
In order to circumvent that, they've learned that they need to get their name out as much as possible to get people into the bowling centre.
"You really have to market the crap out of it, we give away a TV strike award, there's chocolate bars, chips, turkeys, you name it. It gets them in there and it's all part of it. Could you do it with the centre just on its own? It's pretty hard, you'd have to work it yourself. You'd have some staff but not much but the way we do it, it allows us to do all of the other stuff and that's the fun stuff," said Prummel.
With the annual dinner and award ceremonies coming up on Jan. 19, 2018, Prummel is excited about the nomination but also realizes that it came due to the work they've put in throughout the years.
"It's another feather in the cap but you get what you put into it."