TEA makes request for flagpole use for Pride 2018 event
Posted on December 6, 2017 by Taber Times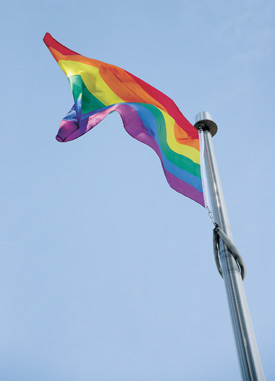 TIMES FILE PHOTO
By Trevor Busch
Taber Times
tbusch@tabertimes.com
In preparation for their second Pride celebration in 2018, the Taber Equality Alliance Society (TEA) is requesting the use of the town's flagpole in Confederation Park for the June 2 event.
Goals for Pride 2018 are to draw more business to town, provide a safe and secure environment, and to plan for a music festival and parade. The group's inaugural celebrations were marred by hate in June 2017 with the theft and defacement of their original flag, followed days later by the burning of a second flag.
"Taber has such a high capacity for love and acceptance. I have seen it and felt it, but our community still has a long way to come," said Jayce Wilson, secretary of TEA's steering committee, during town council's Nov. 27 regular meeting. "The events of last June has shown it to us, but much good came of it. It started conversations and opened a dialogue in our community."
The Taber Equality Alliance Society formed in 2014 from a need to increase safety and support the LGBTQ community, with a goal to create a safe space in the community for sexual and gender minorities and their allies. The Alliance is focused on fostering a more welcoming and inclusive community through engagement, partnerships, social groups and advocacy. The Alliance incorporated as a not-for-profit society in 2016, and is a member of the Taber and District Chamber of Commerce.
In 2018, the group plans on setting up a Queer Youth Support Group, and is also looking to host a Trans-Swim Night as a continuation of efforts to create safe environments.
Referencing the events that occurred in June 2017 involving vandalism of the group's Pride flags, delegation member Sean Todd believed this was clear evidence there is an undercurrent of malice toward LGBTQ individuals in some circles.
"Events show that there is hate in the community and that there is still a lot of work to be done. No group in the community of Taber, whether religious, cultural, or for any other reason, should be made to feel this way."
"I want to be part of change for equality and a safe environment, not just for the LGBTQ community, but for everyone," said Todd.
The TEA was requesting the use of the town's Confederation Park flag pole for their 2nd annual Pride event on June 2, and that the flag be flown until the end of the month.
"We invite the town council to upcoming Pride and ask Mayor Prokop to speak at the flag raising," said Wilson. "TEA hopes to create awareness, embrace diversity, and foster healthy friendships. We are here to provide a service for our growing community."
Coun. Joe Strojwas pointed out that other groups or organizations may request use of the town's pole during June 2018.
"There are other significant days in the month of June — Father's Day, Aboriginal Day — there are certain days that we really have to keep in mind, so that one event doesn't override another."
Town council voted unanimously to accept the presentation as information. Coun. Jack Brewin was absent, but participated in the proceedings via teleconference call.