Christmas cheer spread to member of IGA family
Posted on December 6, 2017 by Taber Times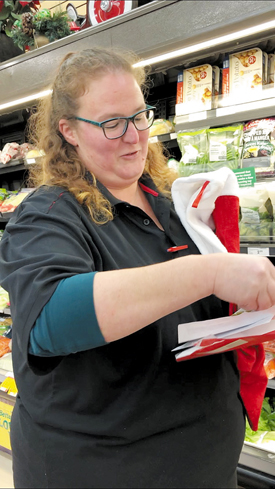 SECRET SANTA: Stacey Maddin went around the Taber IGA store last week as part of a treasure hunt which heaped gifts on the single mother. TIMES PHOTO SUBMITTED BY LINDSAY ANDERSON
By Greg Price
Taber Times
gprice@tabertimes.com
The hunt was on last week and what was found was the power of the human spirit.
Lots of working families struggle this time of year and Stacey Maddin is no different. A single mother who works at IGA, and recent Taberite, having moved to the area a couple of years ago, she rents from Lindsay Anderson's family. In the short time she has known Stacey, she has made a big impact in numerous people's lives.
"She is just always consistently friendly and my four kids decided they'd pay her rent for December and surprise her. I thought maybe we could do two months of her rent and I bet there are enough people who appreciate her friendliness and I threw it out there trying to find 42 people that would donate $15, we could surprise her with rent for December and January and then everything went crazy from there," said Anderson.
The whole voyage can be found on the (invite-only) Facebook Page of Christmas Surprise for Stacey, and it showed just how many people she has touched simply by providing a smile to each and every time a customer would walk into IGA.
"She has no idea how much she affects people every day in that store. There's been hundreds of comments and I had a book made of her of all the texts of experiences they have had with her going through the till. There are people who have stopped shopping at other stores, and exclusively shop there and their children watch for her," said Anderson.
The Christmas Surprise for Stacey netted three months of paid rent and $1,700 worth of gift cards to local businesses. In total, a campaign that started off with a $650 goal blossomed to $4,100 in which $500 in cash was also presented.
"There are all kinds of circles of people that go to IGA that she has helped," said Anderson. "When one reads all the comments about her, she is an employee that makes a real difference."
Given the outpouring of support, Anderson decided to turn the giving into a treasure hunt throughout the IGA store, with each clue having a gift card attached to it, with the last clue being in the lobby of IGA with the three months of paid rent. Each clue also said something nice about Maddin in how she has touched people's lives. Stacey was met in the lobby by a group of people to wish her a Merry Christmas in the taped treasure hunt.
"Surprise wasn't the word for it. I had no clue, I was completely in the dark," said Maddin of the experience, who has four children and three granddaughters. "It has been tough making ends meet recently, but this experience blew me away not realizing that in a small town, simply a 'hi, or how are you doing?' makes a difference. I'm at a loss for words."
She has been in Taber for just over two years and she says she already feels at home.
"It's great, I love Taber. The people here are so friendly and seeing this, it shows people have good hearts," said Maddin. "I want to wish everyone a Merry Christmas. Thank you, this means the world to me and my kids and I can't believe it happened."