Twinning Highway 3 may include bypassing Town of Taber
Posted on November 22, 2017 by Taber Times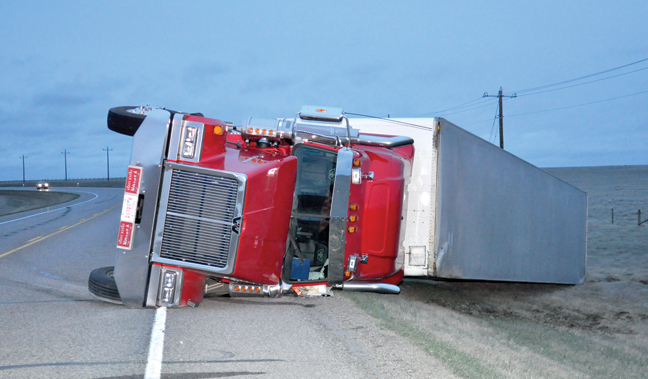 TIMES FILE PHOTO
By Trevor Busch
Taber Times
tbusch@tabertimes.com
The winds appear to be blowing in the direction of a southern bypass route for the town when the province eventually moves to fully twin Highway 3.
The province retained Stantec Consulting Ltd. to complete the planning study for the future twinning of Highway 3 from Taber to west of Burdett. The purpose of the study is to identify staged options to upgrade the highway to a twinned freeway corridor, and identify future interchanges. The planning study is part of an overall future plan to create a freeway on Highway 3 between the B.C. border and Medicine Hat. The study is being conducted now to identify future land requirements, and construction will be based on provincial priorities and available funding.
"South has been the preferred option that they will be bringing forward at the next open house, and there will be a number of scenarios within that southern route," said planning director Andrew Malcolm at town council's Nov. 14 regular meeting. "There hasn't been a specific option declared yet, and that will be what is kind of discussed at the next open house."
Other aspects of the study include future alignment options, interim access plans, a review of existing urban section improvements, cost estimates, and traffic safety and collision countermeasures. Ultimately, the design will be a four-lane divided freeway to allow for higher speeds. The study is guided by a Project Review Committee (PRC) comprised of Alberta Transportation, County of Forty Mile, M.D. of Taber, Town of Taber, and the Village of Barnwell.
The various pros and cons of routing options regarding Taber were weighed by administration, with most advantages pointing to a south routing bypassing the community rather than the existing route through the town's downtown core.
For a north routing, this would provide good connectivity to Highway 36 north and Highway 864, and offers an opportunity for continuous connection of Highway 36 (south and north). However, such a routing would require crossing the CPR line twice as well as "awkward geometry", passing near the Old Man River valley and its tributaries, increased potential for environmental and historical impact, circuitous alignment, running through the existing town boundary, potential limits to future growth opportunities in that area, and a longer route length and user cost.
Upgrading the existing routing would avoid crossing the CPR line, represents the shortest travel distance for through traffic, and the least impact to irrigated lands and utilities, but it divides Taber providing limited access opportunities to connect across the highway, impacts existing urban development including several residential and business developments, offers minimal separation to the CPR and existing developments to construct an interchange, cannot accommodate freeway cross section in the existing right of way, impacts access to existing businesses, restricts pedestrian and school routing, and would represent the need for significant land acquisitions associated with residential and business developments.
Seemingly the more advantageous routing according to the town's background information, south routing avoids crossing the CPR line, offers a shorter realignment than a northern route, provides more options for grid routing minimizing irrigation impacts, and would have good connectivity to Highway 36 south as well as an opportunity for continuous connection of Highway 36 (south and north). This potentially limits future growth opportunities to the south, would pass through more intensive irrigated lands, and there would be more utility impacts.
"Something I'd like to see put in this study is anything that may suggest perhaps putting an overpass in Taber and continuing the highway through the town," said Coun. Jack Brewin. "It's all about bypassing the Town of Taber, and I'm strongly against bypassing the town. I see no study where it says what it would cost to put an overpass instead of buying all of that land around the town."
The first public engagement event was held in Taber on July 29, where there was opportunities that were discussed, as well as constraints within the study area. This was followed up with a series of meetings and value planning sessions with the PRC. A second public engagement event is now planned for Nov. 30 at the Heritage Inn, where feasible twinning and alignment options will be presented, with an opportunity to give feedback.
"They seem to be strictly focussed on bypassing Taber," continued Brewin. "There's many other problem areas on the highway, and we want to see the highway twinned of course. I really want to see more information on what they can do for the Town of Taber instead of just bypassing it."
Following the presentation by administration, council voted 6-1 to accept the update as information. Brewin opposed the motion. The study is set to be completed by November 2018.