Petition presented to council over emergency services building
Posted on November 22, 2017 by Taber Times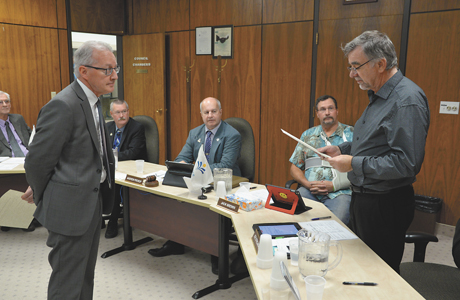 TIMES FILE PHOTO
By Trevor Busch
Taber Times
tbusch@tabertimes.com
Opposition in the community continues to mount to town administration's recommended locations for a potential new fire hall.
One of the town's proposed sites is located northwest of the curling rink, while the other location being recommended by town administration is the southeast corner of town-owned property near Dr. Hamman and St. Pat's schools. Administration recommended the two "highest ranked" locations to council during the in-camera portion of their Aug. 21 regular meeting. A future public engagement process regarding the fire hall decision was also ordered by council as part of the same resolution.
Todd Ginther, representing a delegation of concerned citizens at town council's Nov. 14 regular meeting, presented an ongoing petition that had collected 243 signatures from area residents opposed to the location near the two schools.
"It's a choice to live in that area, it's very quiet, very quaint, very family oriented, and my family and I have chosen now to live there for the past 17 years in the same house, exactly across the street from the proposed site where you guys, or the town, has listed as a potential build site for the proposed emergency services building," said Ginther. "About two weeks before the election, it was brought to my attention by Randy Sparks (former councillor) that, that was a potential build site. Before that, I really had no news or knowledge of it whatsoever. From there, I started looking into exactly what the town was proposing, and if in fact it was to come to fruition, how I could debate it, or try and actually get it stricken as a potential build site."
The proposed site has also recently seen opposition from Horizon School Division's board of trustees, who issued a stern rebuke to the idea at their board meeting in August.
"The primary location is located between 48th and 49th Streets, south of Dr. Hamman and east of St. Pat's schools," continued Ginther, reading from the petition. "Currently, the fields are used as playgrounds and soccer pitches for all Taber residents, schools and Taber and District Soccer. It is also a designated bus loop to transport our kids back and forth to school safely every day. The town council has already had the soil and ground tested at this location for compatibility to build, one of the steps involved with their decision-making process. If you believe that this is a sound decision on behalf of your town and council, this petition is not for you. However, if you are concerned or are of the opinion that this location is not a responsible, effective and safe decision and do not want it built there, please sign this petition as a means to demand that this location be taken off the list of potential build sites for the new emergency services building."
"We, the undersigned, are concerned Taber citizens who urge our town council to act now and remove the land on 53rd Avenue between 48th and 49th Streets from the list of potential build sites for the new emergency services building in Taber."
Ginther's statements received a round of applause from a citizen audience in the packed gallery, which had attended the meeting in support of the petition.
"This is an ongoing petition. As of today we have 243 signed Taber residents, and that is building as we speak," said Ginther.
CAO Cory Armfelt was the first to respond to the delegation, indicating that site information was still being collated by the town.
"Council motion was to test two particular spots in town. We haven't actually seen the results of what that testing is, so to say that is a legitimate decided build site or not, we still don't know based on what we've found from a geotechnical perspective.That site was tested, but we don't know the results of that yet."
The town was recently left approximately $2.4 million from the estate of a local benefactor after he passed away in October 2016. Following in camera discussion at their July 17 regular meeting, council voted unanimously to set aside $1.5 million dollars of the donation for a new fire hall building. Council discussion over how to best allocate the funding was conducted behind closed doors, and citizens have questioned the lack of accountability and transparency involved with a decision to earmark millions in public funds.
"This is democracy in action, and when council does go down a certain path, this is how the residents can respond," said Coun. Joe Strojwas. "So we do appreciate the fact that you've come and made your voice known, and we certainly — at least I will — take that into consideration if this does go down a further road. We applaud you for standing up for something that you believe in."
The town's fire hall decision was a heated topic during the recent municipal election campaign, and dominated debate at the town election forum at the Heritage Inn on Oct. 12.
"Some 243 signatures, you say?" questioned Coun. Garth Bekkering. "Has any people there said 'no, I'm not signing it'?"
Ginther responded in the negative, indicating no area resident who was approached had refused to sign the petition.
Mayor Prokop pointed to planned public consultation in future where residents can discuss the issues and raise any objections.
"We're a little preliminary in our final decision, but overall we've also announced that there will be some public consultation where we do release the other locations that have been proposed. So there will be a process in place for the general public to come and have an opportunity to speak at that time."
Probing further, Ginther asked if the town had a timeline in place for public consultation, as well as what kind of infrastructure developments might be needed should the site be chosen.
"I'd like to say it will be January 2018," said Armfelt. "We have a pretty steep hill to climb to get a budget passed for the remainder of 2017, and we expect the technical details of the survey to be done with respect to soil sampling at the two sites. To let you know the results of the technical study before the technical study is finished would not be something that I'm prepared to do."
Ginther continued to attempt to elicit a response from councilors on the issue.
"How does most of council view a green space being taken away from the town itself?"
Only Coun. Louie Tams responded to this direct line of questioning from the delegation.
"I admire that you have a petition, and the fact of the matter is I got elected to council and this fire hall issue is wide, no doubt. But the decision hasn't been made. But when I see a petition with 243 signatures, that's going to weigh very heavily on my decision to build a fire hall. And to remove a green space? I'm never in favour of it. But does it happen? It does."
The town's other recommended location northwest of the curling rink has also drawn fire from a community organization.
Murray Rochelle, chairman of the Signature Point Home Ownership Association, headed a delegation to town council's Sept. 25 regular meeting where concerns were outlined. Signature Point is directly adjacent to the proposed site.
Signatures from 92 residents in opposition were collected in the petition.