Council alters greeting card message
Posted on November 22, 2017 by Taber Times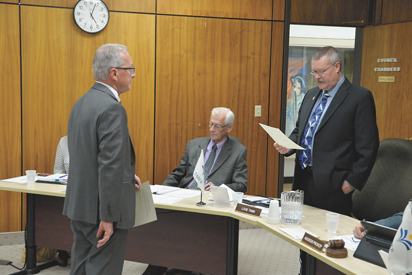 TIMES FILE PHOTO
By Trevor Busch
Taber Times
tbusch@tabertimes.com
Town council has voted to remove the more secular messaging from their annual Christmas cards in favour of replacing it with a greeting more closely associated with the Christian religious holiday.
At their Nov. 14 regular meeting, council voted 6-1 to purchase Christmas cards for this upcoming Christmas season wishing everyone a 'Merry Christmas and a Happy New Year'. Coun. Carly Firth opposed the motion.
According to administration, a council member made a request to have a discussion regarding the substance and messaging of the Christmas cards that are sent to staff and various external stakeholders.
"It's actually myself that made this request. For the past few years we've requested — or wished — we'd had 'Merry Christmas' on the cards instead of 'Happy Holidays'," said Coun. Jack Brewin. "I was wondering at this time if it's not too late to actually say 'Merry Christmas' on our Christmas cards. It is the Christmas season, that is why I believe we have a holiday is because of Christmas. I would like to wish people that deal with the Town of Taber a 'Merry Christmas'."
The town's current practice is to purchase cards and have Mayor Andrew Prokop and individual councilors sign them, estimated at approximately 140 cards. For economical purposes, the cards are purchased in bulk with the standard messaging available when purchased.
"Merry Christmas and a Happy New Year, I totally agree with you," said Coun. Louie Tams.
Although not widely remembered today, the phrase 'Merry Christmas' was only popularized in the mid-19th century following the publication of Charles Dickens' novella "A Christmas Carol" in 1843.
Firth argued that abrogating a more inclusive message was not in keeping with the values of a municipality that purports to represent all its citizens regardless of faith.
"I think if we are sending out cards on behalf of the town, the town — not everyone in town celebrates Christmas, so 'Happy Holidays' might be better. I know the majority do, and if most people received a Christmas card saying 'Merry Christmas' they wouldn't be offended if they don't celebrate Christmas, but because we're acting on behalf of the town and all its residents, 'Happy Holidays' would be a better option."
Brewin suggested stamps might serve as a stopgap measure.
"If that is not an option, or if people are uncomfortable with council signing 'Merry Christmas', we could have stamps where an individual councillor wants to wish someone a 'Merry Christmas' they can stamp it. Last year I wrote, by hand, 'Merry Christmas' on every card."
Coun. Mark Garner supported Brewin, seeing nothing offensive in the idea.
"I agree with Councillor Brewin, I don't think that wishing people 'Merry Christmas and a Happy New Year' in general is offensive in this area. That's my thoughts."
Coun. Garth Bekkering pointed out a successful council vote on the issue wouldn't force a objectionable councillor to sign the cards.
"I fully support the motion, but if there's individual council that does not agree with that, they don't have to sign it."
Treading a more conciliatory path, Prokop acknowledged Firth's concerns but agreed with Bekkering.
"We're not making anyone sign anything, but I recognize Councillor Firth's point and recognize where she's coming from as well."
In a Supreme Court of Canada decision in 2015 regarding religious practices by a municipal council in Saguenay, Que., the court stated as part of the decision that Canadian society has evolved and given rise to a "concept of neutrality according to which the state must not interfere in religion and beliefs" and must instead "remain neutral in this regard."
The judgement went on to state that "this neutrality requires that the state neither favour nor hinder any particular belief, and the same holds true for non-belief. It requires that the state abstain from taking any position and thus avoid adhering to a particular belief. When all is said and done, the state's duty to protect every person's freedom of conscience and religion means that it may not use its powers in such a way as to promote the participation of certain believers or non-believers in public life to the detriment of others."