Town looking for more phone tenders
Posted on November 15, 2017 by Taber Times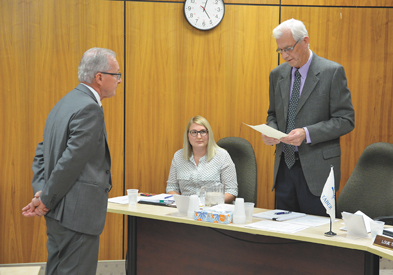 TIMES FILE PHOTO
By Trevor Busch
Taber Times
tbusch@tabertimes.com
Town council has rejected the tenders for a Telephone System Replacement Project, and directed administration to commence a new tendering process in an effort to attract a wider field of contractors.
Town council had approved the Telephone System Replacement Project in the 2017 capital budget, and allocated $165,000 to the project. The tender closed on Aug. 31. The town received two tenders for the project, from Sunco Communications Ltd. ($111,585.42) and Paladin Technologies Inc. ($144,055.32).
"If you say that Paladin doesn't meet the requirements of the tender, we really only have one choice then. So is that enough?" questioned Mayor Andrew Prokop, speaking prior to the vote at council's Oct. 23 regular meeting. "I guess all things considered you were hoping to get five or six, but is one enough? Are you completely happy with what they're doing, what's before us, or do we need to look at another option?"
Sunco Communications projected a 6-8 week period to implement the new system, and also offered a testing plan to guarantee the performance of the new system after implementation.
According to administration, the town's phone system has a 10-year lifespan and is currently 13 years old, which "affects the performance of the phone system in the organization" and "creates unnecessary downtime for maintenance and repairs." Administration noted that Sunco Communications Ltd's bid met the town's specifications at a lower cost, and would allow users to use their phones from anywhere. This could also potentially include audio and video conferencing through the system at an additional cost. The firm also offers a $69,160.75 discount for municipalities, which is reflected in the quoted price.
"That looks pretty attractive when somebody says they're going to give you a $69,000 discount, but it's kind of smoke and mirrors to me, because if we're going up from $4,000 per month user fees to $20,000, that's a $16,000 increase," said Coun. Mark Garner. "So I think if we weighed that out, that's a pretty hefty jump in user fees, and annual operating cost fees."
An immediate sticking point for council, Sunco Communications Ltd.'s bid included annual maintenance fees of $20,000, while Paladin Technologies Inc.'s bid did not. Finance director John Orwa noted the annual fees covered software and hardware support, additional training, continuous upgrades and a backup for the system.
"It seems like a lot to me, that $20,000 fee," said Coun. Jack Brewin.
Coun. Garth Bekkering sought clarification on why the number of tenders for the project might have been so low.
"Can you give us an indication of why there was only two? Were your requirements so stringent that nobody else could qualify, or was it that nobody else was interested because it was so small?"
Orwa indicated he was unsure why only two tenders were received.
"The answer is unknown. What we put in the specifications was exactly what was the basic phone structure that could be followed."
The lack of tenders for the project was concerning, according to Prokop.
"With most tenders that we have out there we usually get more than just two. That's a concern to me. That's really not comparing apples to apples, we've got one choice. That's my concern."
Coun. Louie Tams was on the same page.
"I'm totally in agreement. One tender just doesn't seem to cut it. I have big concerns about the $20,000 annual maintenance fee. As Councillor Brewin pointed out, that's $200,000 over the next 10 years."
Coun. Joe Strojwas, who had participated in a council meeting in the past via teleconference, appeared interested in the proposed upgrades from a technological perspective.
"So if a councillor — and I've done this in the past, electronic videoconferencing — so this would be an upgrade to what we have right now."
CAO Cory Armfelt suggested his directors and managers need to do a better job in providing requisite information to council to assist in the decision making process.
"I think what you have to do when you're presenting this is to make sure you provide all the facts that are going into the comparable between $4,000 and $20,000 (annual maintenance fees), because we're not capturing some of the costs."
Armfelt went on to suggest he was also uncomfortable with only two tenders being received for the project.
"I'm really not comfortable with only having two vendors. I don't think there would be any harm in spinning this back around. We probably could do it over 2017, give it another three or four weeks out there and see what happens for the month of November, and there's a meeting in December to bring this back to."
Following discussion, council voted unanimously to reject both tenders and directed administration to commence a new tendering process for the project. Administration's original recommended motion was declined by town council, which was to award the Telephone System Replacement Project to Sunco Communications Ltd. for $111,585.42.