Officials investigating bird deaths and dumping
Posted on November 15, 2017 by Taber Times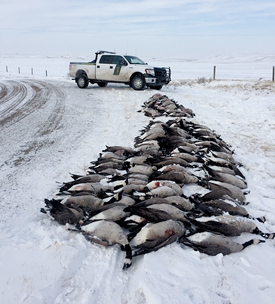 FOWL PLAY: Wildlife officials are investigating the killing and abandonment of 90 birds near Taber. TIMES PHOTO SUBMITTED BY LETHBRIDGE FISH AND WILDLIFE
By J.W. Schnarr
Southern Alberta Newspapers – Lethbridge
Lethbridge Fish and Wildlife officers are investigating the death and abandonment of a large number of geese near Taber.
Brendan Cox, communications advisor with Alberta Justice and Solicitor General, confirmed a call from the public on Nov. 7 lead to the discovery by officers of 90 birds killed and apparently dumped by the roadside near the intersection of Township Road 112 and Range Road 161, about 11 miles north of Taber.
A release by Fish and Wildlife to social media indicated there were 85 Canada geese and five snow geese.
"All of these birds were either partially or entirely buried in the snow," Cox said. "Some meat was taken from 24 of them. But no meat at all was taken from the rest."
Hunting the animals is legal until Dec. 21, but Cox said the main issue is that so many were wasted.
"We are looking for more information," he said.
It is an offence under the Wildlife Act to abandon the edible flesh of any game species.
The Report A Poacher program works better the more it is used. Cox encouraged local residents to get in touch if they see something or know something.
"The Report A Poacher program is a secure and safe way for people to pass along information to Fish and Wildlife officers," said Cox. "The more public support we get through the program, the more effective we can be in combatting poaching activities such as this, and other incidents that happen across Alberta."
Contact the Report A Poacher line at 1-800-642-3800, or to report the information online at alberta.ca/report-poacher.aspx.