MADD chapter makes return to Taber area
Posted on November 8, 2017 by Taber Times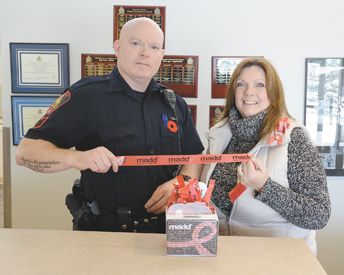 AWARENESS: Sgt. Steve Meggison of the Taber Police Service and Anita Huchala, with the Lethbridge and area chapter of MADD help kick off the Project Red Ribbon campaign in Taber. TIMES PHOTO BY GREG PRICE
By Greg Price
Taber Times
gprice@tabertimes.com
November marks the kick off of the Project Red Ribbon campaign across Canada.
Throughout November and December, MADD Canada chapters and community leaders will distribute millions of ribbons for Canadians to wear and display.
Anita Huchala was on hand on Monday to distribute ribbons to the Taber Police Service as part of the MADD Lethbridge and area chapter.
"I was looking for an opportunity to volunteer and when I contacted MADD Canada, they informed we that we no longer had a chapter in the southern Alberta area. There used to be one in Taber, but it folded three or four years ago and so I was given the opportunity to start a chapter in southern Alberta once again," said Huchala. "As a concerned citizen, I have not been personally affected by an impaired driver, but I wanted to step forward and I feel it is an important cause and it's important to get the word out."
Project Red Ribbon turns 30 years old this year in symbolizing the innocent victims of impaired driving and the importance of driving sober.
"The awareness is improving once again. We've only been up to this since July, but we are talking to businesses and we've had great community support. We've also gone out to the public with the help of the local media in spreading the word and we are here to support the victims and survivors of impaired driving," said Huchala. "We tie the ribbons on for two reasons, one is to support the victims and survivors of impaired driving as well as to remind people to drive sober throughout the holidays."
Be it your office party, or family and friend's get together this holiday season, Taber Police Service veteran Steve Meggison notes there is always an alternative to getting behind the wheel after drinking too many libations.
"Being here for 19 years, I think we are a little lucky here in Taber that we don't have those high-speed collisions than you have out on the highway. That being said, unfortunately, we have had some collisions that have involved drinking and driving," said Meggison. "In a small town like this, there is no reason for that. There are taxi cabs, most people can walk. We are out there, and we need to put an end to it."
With the Christmas/holiday season will come increased enforcement by the Taber Police Service to ensure people's enjoyment is a safe one.
"We do checkstops randomly, but specifically when it comes to December, the Selective Traffic Enforcement Program throughout the province focuses on impaired driving. In December, you will see us out there almost every weekend and throughout the week as well," said Meggison.
MADD Canada encourages you to:
• Never drive impaired or ride with an impaired driver.
• Plan ahead if you're going to be drinking. Take a cab or bus, arrange a designated driver or plan to stay over.
• Call 9-1-1 if you see a driver you suspect is impaired.
Each year, MADD Canada offer sits services to 20,000 victims and survivors of impaired driving. Red ribbons and car decals are available through MADD Canada.