Changing of the guard at chamber of commerce
Posted on November 8, 2017 by Taber Times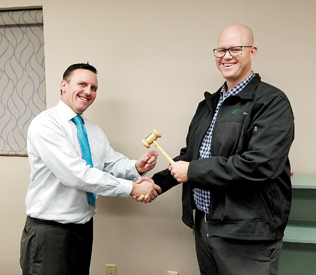 CEREMONY: Matt Williams (right), past president of the Taber and District Chamber of Commerce, hands off the gavel to the new man at the helm, former town councillor Rick Popadynetz. TIMES PHOTO SUBMITTED BY TABER AND DISTRICT CHAMBER OF COMMERCE
By Trevor Busch
Taber Times
tbusch@tabertimes.com
Although stepping down from town council after seven years in mid-October, Rick Popadynetz has now stepped up to the role of president of the Taber and District Chamber of Commerce.
"I've got a large construction background, especially in community projects like the Taber Home and Farm Centre, the insurance company's train building, Signature Point, the clinic, and now St. Pat's school — so that will help," said Popadynetz in an interview in late October. "The trades bring in a lot. The tradesmen don't know what the chamber can do for them. But if a tradesman — welder, plumber, carpenter, electrician, any type of builder — wants to join the chamber, there's so many options for them. Benefits, things that a lot of the tradesmen don't know."
Taking over from departing president Matt Williams, Popadynetz was officially sworn in on Oct. 16 and will serve a two-year term on the chamber board, followed by a further two years as past president.
"When I was a councillor I was able to meet with the Minister of Transportation, Brad Mason, regarding some stuff in our town. I met personally with the Solicitor General (Kathleen Ganley). So I've made the contacts there, and I'm not scared to ask them the hard questions. And I've got a lot of contacts through the deputy ministers, just by going to the AUMA conferences and being able to get one-on-one time with any of these MLAs."
Popadynetz hopes to forge closer bonds with other community organizations.
"I see that there's holes in a lot of the boards that I sit on, the chamber needs to work maybe a little bit better with the Agri-Plex. Maybe we can help with recreation, the chamber has done two major projects since I've been on the board, and that's the Cornfest Stage and the Spray Park. Those were big builds, and I'm from that industry, so maybe I can help highlight some of that building perspective."
A potential new location and building are still being planned for by the chamber, and Popadynetz feels the time is ripe to consider an infrastructure investment.
"I want to say it's a building not just for the chamber, but for a museum — the Taber Irrigation Impact Museum seems like it's very cramped in the space that it's in, and now's the time to build. If you're going to build big, it's the time to build big. Construction rates are down, and a lot of guys are looking for work. We're an industry still in a lull. At the last few meetings there's still a building committee, and hopefully we can work together and try to find a solution. Land is always an issue."
During his time as a town councillor, Popadynetz was well acquainted with the duties and operations of the organization as council's appointed representative to the chamber since 2012.
"They're definitely the best group in town. Membership is just over 250 members, and there's a lot of businesses in that community. I got to know more about the chamber, and to volunteer through the chamber, and I'm volunteering now — it's the best group to get involved with. I'm not 100 per cent sure of all the duties, but I know I'm on every board — Cornfest, Midnight Madness, Taber Pheasant Festival, I think that's the big three."
Popadynetz is contemplating the idea of trying to take advantage of one of the area's successful crops as a promotional tool for the chamber and town.
"I know there's a hole in the Agri-Plex society. The chamber used to put on a trades show, and if I can incorporate something with the chamber and the Agri-Plex society, maybe it might work to have a potato festival, like a spud fest, with all of the equipment out there, have a four day festival type of thing at the Agri-Plex, so kids can come and see how irrigation works, how row crop works, how potatoes are dug, how they're seeded, how they go from a seed potato to a field potato, and then from the field to Lamb-Weston, McCain's, Hostess, and maybe get some potato growers on board, too."
If there's a quality he brings to the role, Popadynetz suggested it would be the wealth of contacts he has developed in his years in municipal office.
"Definitely contacts — I've grown up in Taber. I've used a lot of the businesses, I've shopped local all my life. I know most of the people in town, and I'm approachable — that's the other thing. I'm a very approachable person to talk to, and I'd like to try to increase the membership. People don't realize that your first year as a member with the chamber is free, and we offer benefit programs for companies."
With the town's population (8,428) slowly closing in on city status — 10,000 people in Alberta — Popadynetz was adamant that the chamber needs to grow as well.
"We need to grow obviously with the town. I know the town was earmarked as the next city in the province of Alberta in a federal magazine I read. So if our chamber can grow, and we can get our policies and procedures in place, I think we need to grow with the town. We're getting close — 10,000 is the mark."
With the Vauxhall Business Society currently eyeing a conversion into a fully-fledged chamber of commerce, Popadynetz pledged to do what he can to help.
"That's something I'd like to work with the town of Vauxhall, is to help them become a chamber, too. They were looking at becoming a chamber. That shows positivity in Vauxhall."
Helping to shore up the backbone of the local economy, Popadynetz is a strong proponent of helping small business succeed.
"I'm nervous. It's a big role for the community. The town is only as strong as it's chamber, I've always said that, so we need to be a strong chamber, and we need to grow our chamber. That's why I took the role on, I figured I could do some good and maybe make some business connections throughout the community. And help small businesses, start up businesses — I really like these little small businesses that start up and grow from home-based, to a bigger business, to downtown retail, to maybe two or three outlets. I'm really impressed with the Mediterranean Grill and how he's grown so much."
Reserving any comment until he had canvassed the viewpoint of the chamber board, Popadynetz did signal that the chamber would be releasing a business policy approach to the upcoming legalization of recreational cannabis expected in mid-2018, and the resultant entrepreneurial opportunities that could be available barring any potential restrictions imposed by local municipalities.