TDCALA helping adult education for 45 years strong
Posted on November 1, 2017 by Taber Times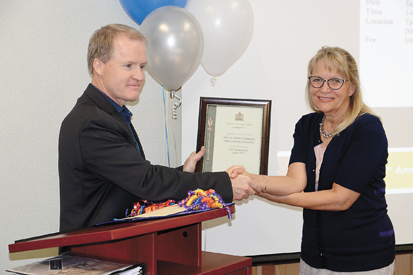 BIRTHDAY SURPRISE: MLA Grant Hunter presents Jane Brenner a special scroll to commemorate Taber and District Community Adult Learning's 45 years of existence in the Taber/Vauxhall area. TIMES PHOTO BY GREG PRICE
By Greg Price
Taber Times
gprice@tabertimes.com
Taber Adult Learning has been helping people achieve a better future for 45 years now.
The milestone was celebrated last week at the Taber Provincial Building where a packed room got to enjoy some birthday cake and stories of how the institution has changed lives.
"The reality is, if you want to be able to help anybody come up from whatever level they are, then lifelong learning has to happen," said Grant Hunter, MLA for Cardston-Taber-Warner who was a guest speaker at the anniversary celebration. "For a model of life-long learning, I looked at a model in Singapore. Singapore was a Third World country and they had a benevolent dictator that got in there through a military coup. He recognized the need for life-long learning. Within 10 years, the country went from a Third World country to top 30 in the world in terms of GNP growth in all the measurables."
While Canada is a First World country, Hunter added there are still people who struggle with everyday tasks in a complex system.
"This system, this adult education that is offered here plays a vital role in my opinion. It is helping people who are coming from Third World countries, who are coming from poor situations and to be able to rise to the level to function well in our society," said Hunter. "I take my hat off to Jane (Brenner) and all who sit on the board who give of their life, who give of their heart to lift other people. It is people like you that are the reason why our society is so wonderful."
In his closing remarks, Hunter presented a scroll from the Province of Alberta to Brenner, Taber and District Community Adult Learning Association executive director.
"I think the success of our programs can be contributed to a couple of factors. One is the staff that is so dedicated. I can't tell you how many times they have worked beyond and beyond and beyond, hours that they have volunteered to make the program a success," said Brenner. "Volunteers play a vital role with our ESL students. We have so many volunteers that have contributed hundreds of hours the last few years."
Brenner also highlighted the board of directors in helping steer the ship to the waters of better tomorrows.
"They are visionaries as a board. They are visionary thinkers so when we bring things to them, they drive it forward and they don't hold me back and they don't hold the association back," said Brenner. "That is why we are able to develop the programs and services that we do."
In stressing the notion that learning does not stop at high school or post secondary, Brenner recalled a student who signed up for a computer class in her 90s.
Alf Rudd, former chief of the Taber Police Service, is the chairman of the board of directors and has found the experience very rewarding.
"Being able to watch it grow and seeing it work out in the community in other capacities as well. You run into the people who have benefited from it," said Rudd. "I don't think people really understand the depth of the work that goes on here. It is so important for those people who have not had the initial opportunity to give themselves an education or who are just starting out and want something different in the adult stage of their life. This is the place to come to make it happen."
Rudd has been the chairman for the last two and a half years and has been on the board for five years.
"Determinants for success include education and I know that very well from my career in policing," said Rudd. "The people who have better education and better opportunities because of what the education brings them, they are less likely to be having to deal with the police with a precarious lifestyle. For 45 years this has been a driving force for communities in southern Alberta and it has done nothing but pick up speed."