Taberite hoping to share her story with homeless in helping with feeding frenzy
Posted on October 25, 2017 by Taber Times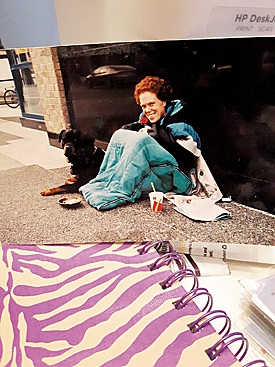 STREET SMARTS: Taberite Tammy Palmer was homeless herself on the streets of Vancouver and Victoria in the 1990s. TIMES PHOTO SUBMITTED
By Greg Price
Taber Times
gprice@tabertimes.com
In some of the hardships Tammy Palmer has endured in her life, she has every reason to have a glass-is-half-empty attitude, and yet she has one of the most bubbly personas you will see around town.
Aiding this is the phenomena known as the Ballin Pics and Clicks.
Palmer was homeless at one time, living on the streets of Victoria and Vancouver in the 1990s.
"I was in foster care for quite a number of years and that was not going very well, so I ran to the streets because I didn't want to listen as most kids do," said Palmer. "And it became a family, I made a family down there that I could trust and rely on more than any foster home ever."
Palmer cycled through 32 foster homes by the time she was 17 years old under the British Columbia government.
"They failed me, I strongly believe that. Street life wasn't the greatest life experience, but it was part of my life experience and it made me stronger for who I am today," said Palmer.
Palmer moved to Taber in January 2016 with her husband who she is now separated from after being together for 10 years. Another life challenge.
"I'm pretty much on my own, no family or support trying to make ends meet," said Palmer. "But, part of that, too, is helping people in need and I've always done that. It didn't matter if I had two cans of soup in my cupboard, if somebody needed it, I'd give it up, that's just who I am. Growing up with nothing, you just kind of learn to adapt. I do what I can, how I can."
It is that positivity that translated well to the Ballin Pics and Clicks Facebook Page. Just having some fun with it at first, thinking it was a selfie page, Palmer soon discovered it was a beacon of positivity that has grown exponentially.
"I was noticing so much positivity and uplifting things. I noticed when I was off work for a month with WCB, you are kind of sitting at home and kind of bored. I posted a picture, and I got so many likes and it boosted my spirits," said Palmer. "I started watching the posts and they came up with a great idea."
The idea was to take the push on the page of positivity, and direct it to tangible action in the community in the form of a Flash Feeding Frenzy Food Mob for the homeless.
"There isn't a huge need here in Taber (with homeless), but we are trying to as a community, gather all the members from the page be it Vauxhall, Taber, Coaldale, Barnwell and we will do the feeding frenzy on Dec. 9 in Lethbridge," said Palmer.
Members are looking for donations of all sorts of toiletries, feminine products, jackets, socks, scarves, mitts, toques, blankets, wash cloths, snack packs, granola bars, insulated mugs, water, pet food and baby needs, be it clothes, diapers, wipes etc. If a person can find use for it to make their life easier, Palmer will take it for donation.
"This page (Ballin Pics and Clicks) grew in 3 1/2 months to 20,000 members that are from all over Canada. We have members from Kenya now that have joined. Lots of people love it. To see a page like this when there is so much negativity happening in the world, you need some positivity," said Palmer.
"You look at news feeds now on Facebook, and so many are filled with negativity. We can change that perspective and leave a more positive legacy to families to pass down to enrich and inspire. It started off as just a sort of selfie page and it bloomed. It's like throwing a bunch of seeds into a garden and not knowing what is going to pop up and this popped up."
Feeding frenzies have been popping up all over the province with members from the Facebook page.
Volunteers from the Ballin Pics and Clicks Facebook Page for the Flash Feeding Frenzy Food Mob will be meeting at Galt Gardens on Saturday, Dec. 9 at 1 p.m. with their donations in hand.
"We don't want to help just the homeless, but those that are struggling as well. We will be doing male bags, female bags and gender-neutral bags to give out so we can reach a wider variety of people along with baby bags with formula, diapers, stuff like that," said Palmer. "There will be a picnic shelter there. My work will also be donating some coffee and making some sandwiches and probably a big pot of soup to give a hot meal as well."
Palmer hopes to get some dialogue going as well with those struggling in their lives that will need the feeding frenzy's services, sharing her own story and giving strength and hope as Palmer battled addiction while she was on the street.
"I am 11 years clean and sober from what happened to me on the street. This past July, I just celebrated 11 years clean and sober from cocaine and crystal meth addiction. It took someone coming up to me on the street with my daughter and getting me clean. I know I wouldn't have reached out thinking I was a weekend user," said Palmer. "I know I have some other friends that are coming that are going through recovery who would be powerful speakers, too. When you are down on the street panhandling or whatever and doing whatever you need to do for the next dollar, people ignore you. They treat you like a piece of crap and don't treat you like a member of society. That is not right, that is someone's child, someone's mother, someone's father. They shouldn't be walked over and ignored."
It can be something so simple as giving some sort of acknowledgment that shows you care. Palmer begins to fight back tears as she remembers those dark days years ago.
"If people take the time to actually sit down and talk to these people, you'd discover that they are just like you and I," said Palmer. "If someone had done that, I wouldn't have spent as much time on the street as I did. If something as simple as this with people coming together to help someone else, is this not what is important in the world?"
Anyone looking to donate to the Flash Feeding Frenzy Food Mob from Taber can do so by calling Palmer at 403-393-1667 or connect with Palmer through Facebook. Palmer can also direct people in Lethbridge where to donate as well.