Kenney makes final push for UCP leadership
Posted on October 25, 2017 by Taber Times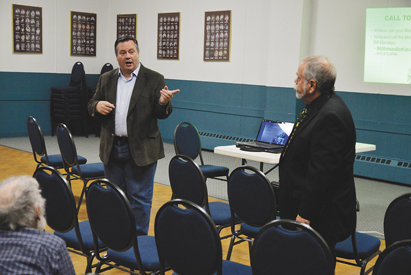 EARLY DAYS: Premier Jason Kenney — at the time seeking the leadership of the PCs — makes a stump speech at a open house with MP Shields in Taber in 2017. TIMES FILE PHOTO
Taber Times
tbusch@tabertimes.com
Cruising into the home stretch of the United Conservative Party's leadership race, candidate Jason Kenney made an appearance at Bow River MP Martin Shield's recent roundtable discussion earlier this month in Taber to protest proposed federal small business tax changes.
"What Martin and the federal caucus are doing to fight these federal tax changes is hugely important," said Kenney on Oct. 13 at the roundtable hosted at the Taber Legion Hall. "Thanks for being here to become better informed. Please support your business organizations, your professional and ag groups that are fighting this. There's strength in numbers. When I was head president of the Canadian Taxpayer's Federation in 1995, the Chretien government was threatening big tax increases. We mobilized the public, we had no more tax increases, we brought tens of thousands of people out to rallies across the country, and guess what? The government realized they couldn't proceed politically."
Small business tax changes recently proposed by the Trudeau Liberals targeting income sprinkling, passive income, and capital gains which could impact the transfer of generational farms has aroused an outpouring of opposition across Canada.
"You can't pick a fight with every small business person, professional and farmer in the country and win that easily, so I really believe that they've picked the wrong fight here," continued Kenney, who went on to highlight the recent scandal involving Liberal Finance Minister Bill Morneau. "And now the hypocrisy is so thick you can hardly see through it. It's now come out that Bill Morneau — who's a trust fund millionaire, who inherited millions from his father through family tax shelters — owns a private villa in France through a corporation designed to avoid paying taxes on it, and failed to disclose that to the ethics commissioner in violation of the law."
Kenney believes one of the major fails involved in the proposed changes surrounded how the Liberals attempted to explain the legislation to the Canadian public, which could have used more finesse on the part of public relations.
"I think the real mistake they made isn't the changes themselves — which are bad — but it's the way they framed them, that small business people, professionals and farmers are just a bunch of the idle rich trying to avoid paying their fair share of taxes. So I hope you guys get involved, speak up. Really I do believe that the more phone calls, emails, events, petitions, all of it adds up, and it forces this Liberal government to listen."
Moving away from proposed tax changes momentarily, Kenney took time to praise the efforts of Shields in Ottawa as well as putting in a plug for the upcoming UCP leadership vote on Saturday.
"I wanted to thank you all for sending Martin to represent you in Ottawa, he's doing a great job. Unfortunately we only got to work together there for a few months before I decided to give up my paycheque and 'schlepp' around every corner of this province — I just put 100,000 kilometers on my pickup in the last year, trying to bring together free enterprises into one big political movement that can defeat the NDP, and we've made great progress. For all of you that helped with that, thank you."
Concluding with a withering shot across the bow at NDP Premier Rachel Notley, Kenney questioned her lack of opposition to the proposed federal tax changes.
"We need a provincial government that has the back of these MPs. Why is our current provincial government not saying a peep about this? Well, I'll tell you why. Because they love the 'soak the rich' class warfare rhetoric coming out of Ottawa right now. We need an Alberta premier who would be calling a special session of the legislature, passing a motion condemning these changes. We have eight of 10 premiers have opposed publicly the federal small business tax changes. Alberta's premier has been one of the two that's been complicit, hasn't said a word in opposition."